Giancarlo Perlas
September 20, 2018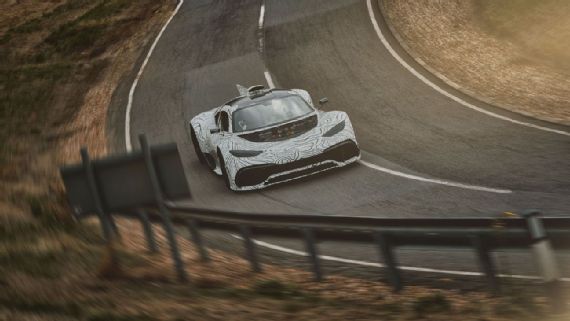 The much-awaited Mercedes-AMG Project One is already undergoing testing. Recently, the hypercar was spotted at the Milbrook Proving Ground in Millbrook, Bedfordshire, UK.
According to Mercedes, the car was too loud during testing for the locals not to notice. The leaked photos show the prototype covered in camouflage—as if that will hide the distinguishable features of the Project One.
"The successful completion of [engine] dyno tests was followed by the installation of the highly complex powertrain into the first prototypes, which since then have been driving around unnoticed on a secret test ground in England," the automaker's press statement said.
"But today it turns out to be more difficult to keep this testing confidential: the camouflaged prototypes of the Mercedes-AMG hypercar are still being driven on closed off test grounds and racetracks. However, because of their characteristic F1 sound they are hard to keep from the public," the company added.
Looking at the spy shots, the production version of the Mercedes-AMG Project One does not deviate much from its concept form shown earlier in Frankfurt, Germany, in terms of design. The only noticeable change in the auto, for now, is the absence of its huge rear wing.
The Project One equipped with a 1.6-liter V6 turbo-hybrid capable of 1,000 bhp is expected to reach customers next year. Only 275 units of the hypercar will be made, and each comes with a price tag of more than £2 million. The buyers were carefully picked by Mercedes, and the first recipient of the vehicle is Lewis Hamilton.