Giancarlo Perlas
July 20, 2018

The armored vehicle manufacturer Inkas just revealed improvements in their bulletproof 2018 Mercedes-AMG G63 Limo. The video above gives us a sneak peek at the lavish interior of the auto.
Inkas was the same company that brought to us the armored Mercedes-Maybach S600 and bulletproof Mercedes-Benz Sprinter. The manufacturer already introduced their armored Mercedes-Benz G63 AMG with a stretched wheelbase a couple of years ago. Recently, they enhanced their armoring package for the G-Class to better match the features of the iconic Mercedes sport utility vehicle's 2018 model.
The new armored 2018 Mercedes-AMG G63 Limo by Inkas measures 4,374 mm in the wheelbase. The vehicle keeps its AMG 5.5-liter biturbo V8 engine, and the power is distributed to an all-wheel-drive system via a 7-speed automatic transmission.
Despite the armored G63's 2018 badge, Inkas' website lists the power of its engine with only 544 hp compared to the latest AMG G63 model's 563 hp, which makes us think that the base G-Class used for the armoring package is the one with a 2015 model year. The grille of the armored G-Wagen also follows the closely-packed double-louver design of the 2015 model while the new AMG G63 already sports a three-grille styling.
Setting the mentioned elements aside, the 2018 Inkas Mercedes-AMG G63 Limo now has a BR7 level of armoring—a notch up from its previous version. The BR7 armor level can withstand multiple shots from a 7.62 mm hi-power rifle and explosions from two DM51 hand grenades.
Upgraded Interior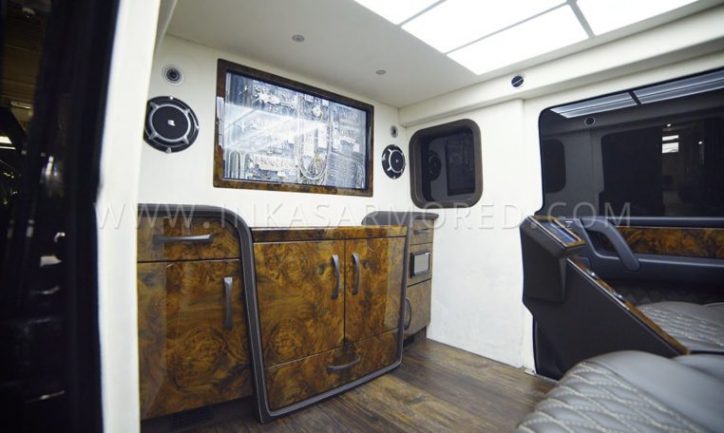 The real changes in the armored G63 can be found in its rear-passenger cabin. The overhauled interior includes new 4K ultra high-definition TV, 4K Apple TV integration, voice-activated controls with Apple Siri & Homekit Integration, motorized bar with built-in cooler and improved captain seats. The captain seats have massage functions, full-recline features and built-in controls for managing the vehicle's lighting, media, comfort and security functions.
The armored vehicle is equipped with a customizable daylight headliner to mimic real sunlight as well to reduce the fatigue of the rear passengers during long trips. Of course, there's more that can be added to the said interior elements depending on how deep customers can dig into their bank accounts.
Pricing
Inkas didn't reveal details about the cost of the armored G63 limo. Interested buyers can get a quote by directly contacting the manufacturer.