Ryan Joseph Ramos
July 8, 2018
Mercedes could not get a home race win at the 2018 British Grand Prix. At least, the fans wound up seeing one of the more memorable racing battles in recent memory.
While chasing the race win, Mercedes and Ferrari were mixed up in the top four spots. Sebastian Vettel waited patiently for his shot, and made his opportunity count. The Ferrari overtook then-leader Valtteri Bottas in lap 47 and never looked back. A few laps later, Bottas slid wide after relinquishing P3 to Kimi Raikkonen, paving the way for a podium finish for both Ferrari cars. Lewis Hamilton, who started from pole position, could not do much sandwiched between them.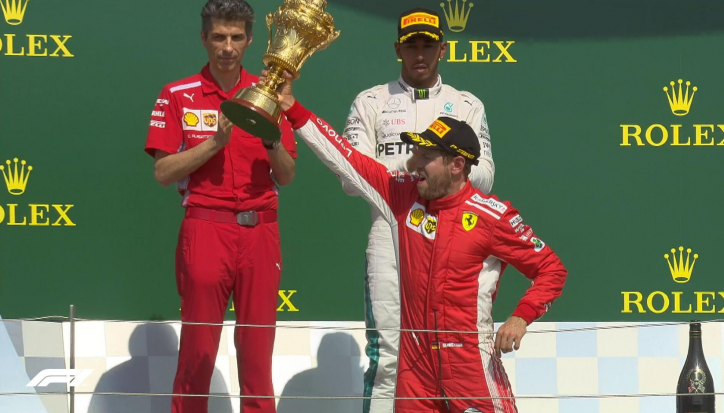 At least, that secured second place for Mercedes. That's actually pretty good news, considering the disastrous start by Hamilton. He went from pole to near the end of the grid within a few corners. He recovered nicely in front of the home crowd, and stuck in there. This allowed the Brit to cop the Driver of the Day award. Some safety car appearances also helped him a bit down the stretch. Too bad it also helped his Ferrari rivals some.
Bottas actually defended against Vettel fairly well around lap 42 when the Ferrari started getting into striking distance. It seemed as though Vettel would not be able to push past the Mercedes. Alas, it was not meant to be. The Finn went from possible race win to fourth place.
Vettel entered the race one point ahead of Hamilton in the drivers' championship standings. He manages to extend that lead to 8 after his 2018 British Grand Prix victory. This is Vettel's second career win at Silverstone.
Rounding out the top 10 are Red Bull's Daniel Ricciardo in fifth place, Renault's Nico Hulkenberg in sixth, Force India's Esetban Ocon in seventh, McLaren's Fernando Alonso in 8th place, Haas' Kevin Magnussen in ninth, and Pierre Gasly in tenth.