Giancarlo Perlas
July 23, 2018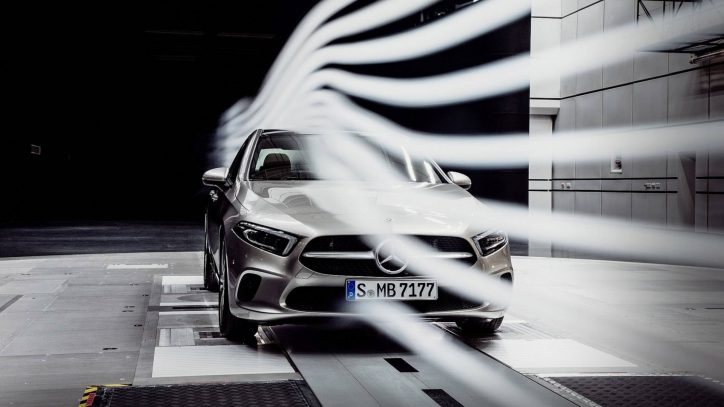 After months of anticipation with spy shots and China beating the rest of the world with it, the Mercedes-Benz A-Class Sedan is finally arriving. Recently, Daimler released the teaser photos of the vehicle.
By now, we know that the A-Class Sedan will inherit many elements found in its hatchback counterpart including the tech, engine, and design. The Mercedes-Benz A-Class L Sedan exclusively launched in China also gave us a glimpse of what the upcoming A-Class Sedan holds for customers.
The first teaser for the A-Class Sedan shows it in a wind tunnel. According to Daimler, the car is going to be the most aerodynamic production car in the world. The A-Class Sedan holds a Cd value of 0.22 and a frontal area of 2.19 m². That means it will have the lowest drag compared to all production vehicles worldwide.
The values translate to a better airflow around the car. It enables the car to optimize engine performance, and it promotes low fuel consumption. The figures also benefit the interior comfort of the vehicle even at high speeds.
The engineers at Mercedes paid attention to even the smallest exterior components of the A-Class Sedan like the sealing of the headlamps and its surroundings to meet the said numbers. Meanwhile, the complete paneling of the underbody, including the engine bay, main floorpan, parts of the rear axle and diffuser, contributed a lot to the improvement of the car's drag. These are further complemented by the styling of the front and rear spoilers, rims, and tires.
Daimler said that the A-Class Saloon's world premiere is scheduled at the end of 2018.