Giancarlo Perlas
July 24, 2018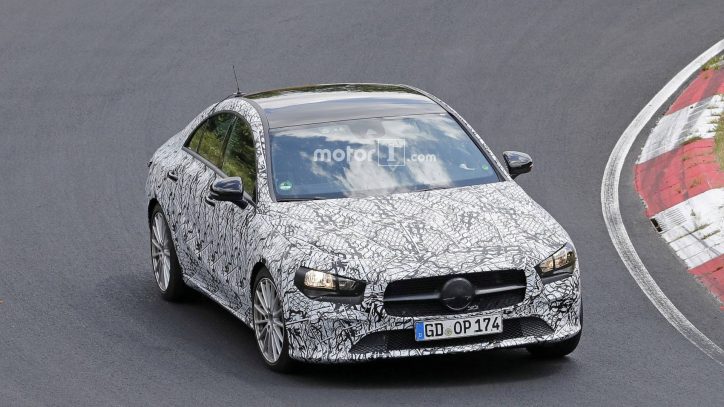 The new spy shots of the Mercedes-Benz CLA are out. Again, the car was captured on photos while it was making its rounds at the Nurburgring track in Nürburg, Rhineland-Palatinate, Germany.
The CLA is still heavily clad in camo, but the closeup pictures give us a clear view of its body's outlines and the parts peeking out from its wrap. Based on the spy shots from Motor1, the single bar in the front grille indicate that we are looking at the standard Mercedes-Benz version of the auto. We can also see a pair of LED headlamps peering from the covers. A careful examination of the lumps along the side panels hint that the CLA will feature smoother surfaces with fewer creases similar to the treatment of the new Mercedes-Benz A-Class Sedan.
Speaking of the A-Class Sedan, the CLA certainly shares many features with it, particularly its exterior design. Both compact vehicles utilize the MFA2 platform. The CLA is expected to be equipped with the MBUX intelligent multimedia system too. However, since the CLA sits above the A-Class Sedan, it might benefit from some elements found on the Mercedes-Benz CLS to make it more luxurious.
Earlier, Mercedes hyped the A-Class Sedan as the most aerodynamic production car in the world with a drag of 0.22 Cd. Not to be overshadowed by the A-Class Sedan, the CLA might get improvements in its aero as well as a lower drag compared to its outgoing model.
Lastly, the same engine configurations available in the A-Class Sedan will likely be available in the upcoming CLA.