Giancarlo Perlas
May 9, 2018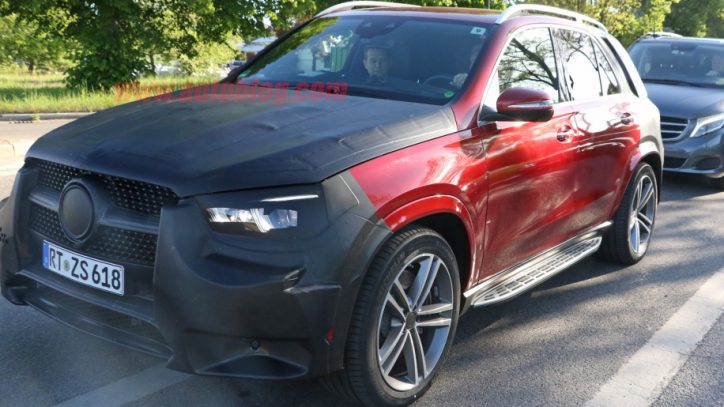 Are you ready for the refreshed Mercedes-Benz GLE? We hate to spoil the fun, but new spy photos have already leaked many features of the upcoming GLE.
The spy shots released by Autoblog show two variants of the new GLE in cherry paint. Some key portions of the vehicle in front and at the back are wrapped in black, but majority of its exterior is exposed.
From the looks of it, the GLE is having a major facelift, which is just about time. It should be noted that the sport utility vehicle traces its roots back to the M-Class. In fact, the current model of the auto is still under the same generation as the last M-Class. Since 2012, its look has remained the same except for some subtle revisions in the lighting and air inlets on the front bumper.
The new GLE spy shots reveal smoother side panels for the SUV. Smooth flowing organic curves replace the sharp body lines that the M-Class and the current GLE possess. The LED lights will likely carry over the same elements found in the E-Class. The bumpers appear to be remodeled too in order to complement the sexier surfaces of the upcoming GLE's exterior.
The autos in the images here come in different grille design. One has a single cross bar holding the Mercedes logo while the other features a double louvre styling. The former is likely the standard GLE and the latter is the AMG model.
The pictures even take us inside the new GLE. The cabin reveals an interior similar to the latest Mercedes cars, particularly the E-Class. It is highlighted by new dual wide screens and control layout. Grab handles are also sticking out on the center console, which is probably inspired by the Porsche Cayenne.
For the engine of the upcoming GLE, it might get the same powertrains found in the latest E-Class.