Giancarlo Perlas
May 29, 2018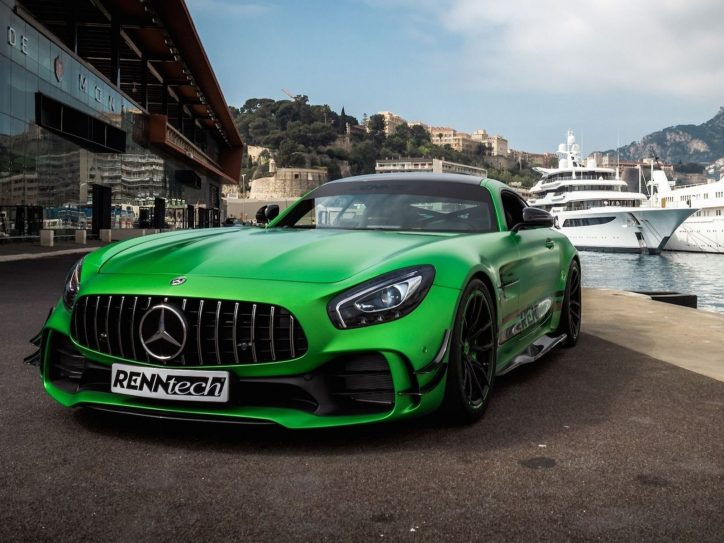 Rumors and spy shots suggest that the development of the Mercedes-AMG GT R Black Series is already underway. Sources suggest that it might debut on September 12 at the Frankfurt Motor Show. However, if you already own a Mercedes-AMG GT R or you can't wait for its Black Series to arrive in the market, you can just fit it with RENNtech's new tuning package.
Fresh from the factory, the Mercedes-AMG GT R is capable of producing 577 hp and 516 lb-ft of torque from its 4.0-liter biturbo V8 engine. Installing the new tuning package of RENNtech into the sports car raises the bar to a whopping 831 hp and 627 lb-ft of torque.
The bump in power is thanks to the tuner's ECU upgrades, bigger turbocharger and air filter. The package modifies the valves and other parts of the engine as well.
The exterior of the Mercedes-AMG GT R also receives minor cosmetic enhancements to complement its high-performance upgrade. It gets new front bumper canards, side rocker panels, two-stage rear wing and diffuser too. These can be topped off with a new set of 10- by 19-inch front wheels and 12- by 20-inch rear wheels. The wheels are wrapped in 285/30 and 335/25 Michelin Pilot Sport Cup 2 ZP semi-slick tires for the front and rear, respectively.
For those who think that the 831 hp boost may be too much, RENNtech offers a version that only raises the overall output of the vehicle to 603 hp with 538 lb-ft of torque.
Check out the gallery below for the photos of the new RENNtech Mercedes-AMG GT R: