Giancarlo Perlas
May 20, 2018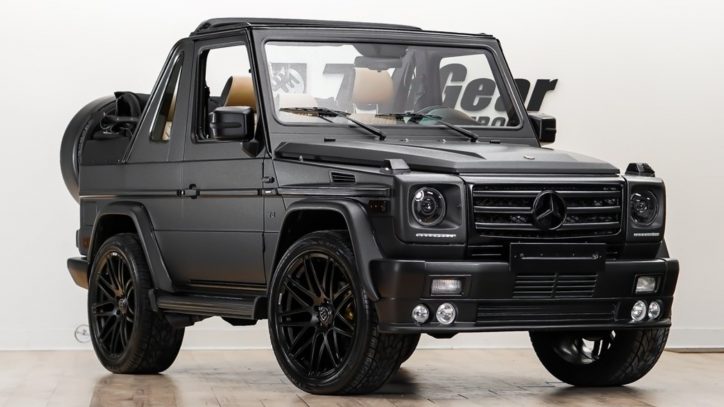 The Mercedes-Maybach G650 Landaulet is currently the closest thing you've got if you are looking for an open-air riding experience with the modern G-Class. However, it is definitely very pricey and you can only enjoy an open-roof breath of fresh air with it if you are on the rear passenger seats. The Mercedes-Benz G500 Convertible from Brabus presents a better alternative for you though.
The masterpiece in the photos here was made possible by Brabus. The famous Mercedes aftermarket tuner used a two-door version of the 1999 Mercedes-Benz G-Class as a base and customized it into a convertible, based on a report by MBWorld.
Beneath the hood of the SUV is a 5.0-liter V8 engine, which is good for 300 hp in its stock configuration. Then, it is paired to a 4×4 drivetrain.
The chrome elements of the auto have been blacked out, including its front grille and wheels. The other improvements can be found in its restyled bumpers with fog lamps in front, redesigned hood, new LED headlamps as well as taillights, and modified exhaust pipes. The result is a menacing jet black exterior for the vehicle.
The source said that the roof of the Mercedes-Benz G500 Convertible can be activated or retracted simply by pushing the red button found near the vehicle's ash tray.
The cabin of the G-Class Cabrio is adorned with luxurious wood and leather surfaces. The rest, including the entertainment system of the auto are original and restored to their pristine condition.
Currently, the Mercedes-Benz G500 Convertible in the pictures is being sold by New Jersey-based Top Gear Imports with a price tag of $278,888.