Giancarlo Perlas
April 16, 2018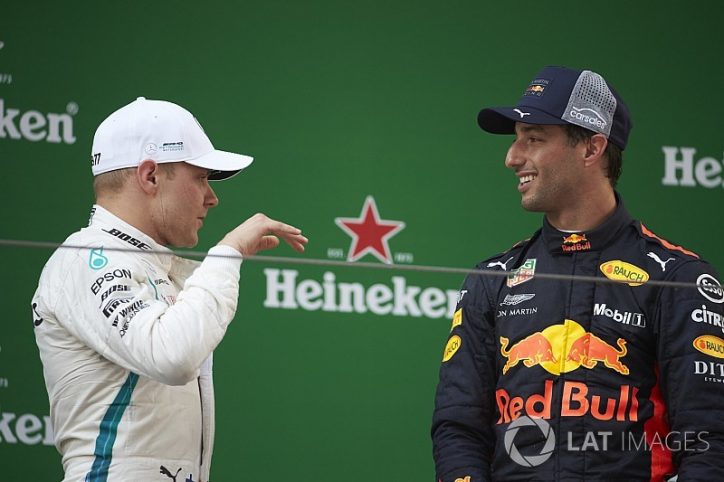 "We just need to get our act together," Mercedes AMG Petronas team boss Toto Wolff said in the aftermath of the Formula 1 Chinese Grand Prix last Sunday. This was following their loss due to Red Bull's strategy, which resulted in Daniel Ricciardo winning the race.
Near the end of the F1 Chinese GP, Valtteri Bottas appeared to be gunning for the win, but the decision of Red Bull to pit for fresh, soft tires eventually paid off for Ricciardo.
It looked as if Mercedes was about get back to its winning ways at Lap 32 when the Safety Car was deployed following the two Toro Rosso cars colliding to each other. The Mercedes cars remained on track, which meant a lead for Bottas and Lewis Hamilton when the race resumed.
During that time though, Red Bull boldly pitted for new tires. Eventually, the older medium rubber tires that the Mercedes F1 cars were equipped with took their toll. In the end, they were powerless to keep pace with the raging Ricciardo all the way to the finish line.
Red Bull's Max Verstappen could have ended up just behind his partner, but a costly maneuver pushed him back in the fifth place. It should be noted that he got a 10-second time penalty and two penalty points in his license for tapping into Ferrari's Sebastian Vettel at the Turn 14 hairpin.
Wolff, conceded to the fact that they were outfoxed by Red Bull while they were too busy keeping Ferrari at bay. The story might have been different for them if they had pitted Bottas.
As a recap, Ricciardo won the Chinese GP with a time of 1:35:36.380. Bottas took the second place and Ferrari's Kimi Raikkonen captured the third. Hamilton got the fourth and Vestappen ended in the fifth. The 2018 season's current leader Vettel finished eighth.