Giancarlo Perlas
April 14, 2018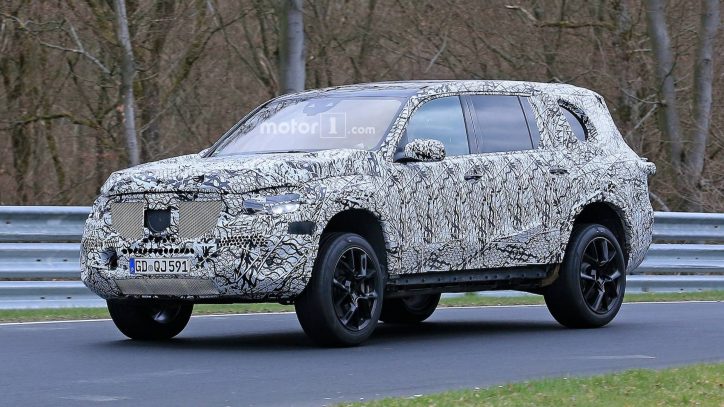 The new Mercedes GLS SUV might be unveiled in the end of 2018. Since the last quarter of 2017, we have been seeing the camouflaged prototypes of the auto's standard Mercedes-Benz GLS version and its Mercedes-AMG GLS 63 model. The latest spy shots of the vehicle give us a closer look at it and they reveal more of its key features.
Our first impression of the upcoming Mercedes GLS is that it appears more imposing than the current model. The AMG model brings that up to another level.
The most recent spy shots of the vehicle from Motor1 suggest that we may be looking at a Mercedes-AMG GLS 63 model. This is evident in the unit's suspension and set of performance wheels. The bulges in the subject's zebra-themed wrap also hint changes in its bumper and body lines. The lights peeking through the covers display upgrades, too. Going around the SUV reveals dual exhaust tips, which further tell us of the auto's AMG blood.
It should be noted though that the unit of the GLS here is still in its development stage. Thus, it still does not reflect the final product that will debut at the end of this year. The features of the camouflaged vehicle in the spy shots are subject to change as well. This might explain why the radiator grille of the SUV remains bare. We do not know yet if the standard Mercedes GLS will retain the existing model's dual horizontal grille design, but the AMG version will most likely have the Panamericana styling introduced by the Mercedes-AMG GT.
The source claimed that the Mercedes-AMG GLS 63 will probably carry a reconfigured 4.0-liter biturbo V8 with power that will exceed the present model's 577 hp output. With that, the next Mercedes GLS could have at least 600 hp. Together with an improved and lighter platform, the upcoming GLS is expected to surpass its predecessor performance.