Giancarlo Perlas
April 21, 2018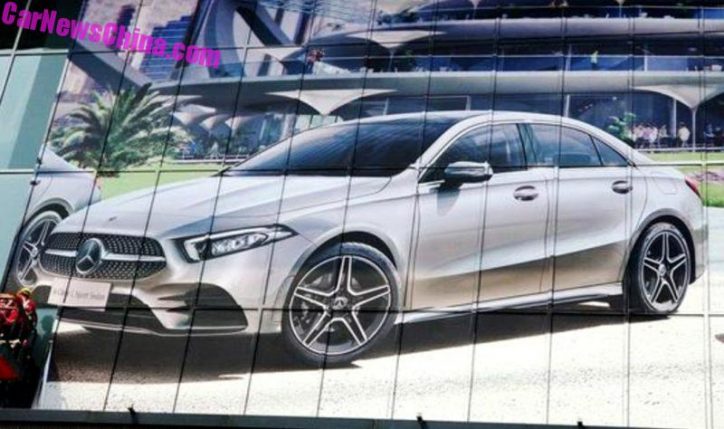 A photo allegedly showing the Mercedes-Benz A-Class sedan just got leaked online. The car is expected to make its debut next week at the 2018 Beijing Auto Show.
According to CarNewsChina, the photo of the A-Class sedan was taken when workers forgot to cover a giant backdrop that they were hanging on the exhibition hall of the venue for the Auto Show. One of the workers wearing a red vest and yellow helmet can be seen at the lower-left part of the image.
Although the spy shot is blurry, the source said that the license plate of the car reads, "A Class L Sport Sedan." The letter "L" in the plate means the vehicle has an extended wheelbase. It indicates that the unit is a Sport Sedan model as well.
Compared to the Mercedes-Benz Concept A sedan, the one in the leaked image appears with a different front grille, bumper design and lighting system. While the Concept A sedan is more futuristic in its overall appeal, the Mercedes-Benz A-Class sedan to be unveiled in Beijing carries with it the same level of styling found in the car's hatchback version. Therefore, the vehicle is likely a derivative of the A-Class hatchback only.
The report said the Mercedes-Benz A-Class L Sport Sedan will be made in China under the Beijing-Benz joint venture. The car is geared to compete against the likes of the BMW 1-Series sedan and the Audi A3 sedan. The article claimed that the Mercedes-Benz A-Class L Sport Sedan will carry a 1.4 turbo and 2.0 turbo engine. The engine will be partnered with a seven-speed DCT.