Giancarlo Perlas
April 21, 2018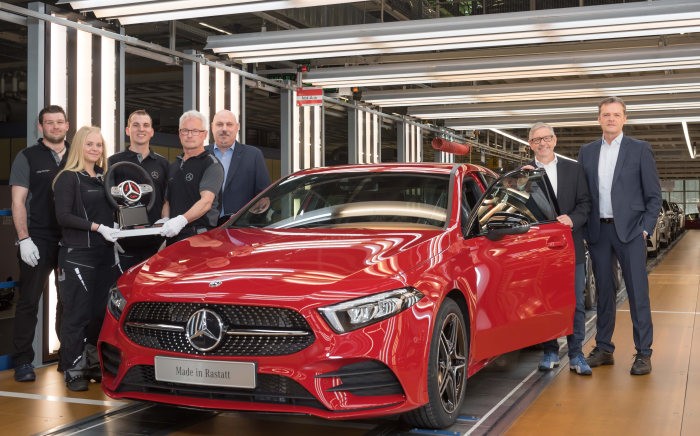 The production of the new Mercedes-Benz A-Class model has begun in Rastatt, Germany. The A-Class is already in its fourth-generation. The car is highlighted by the integration of Mercedes-Benz User Experience or MBUX, which is the newest multimedia system of the German luxury vehicle brand.
According to Daimler, the production of the new Mercedes-Benz A-Class started on April 19. Markus Schäfer, Member of the Divisional Board of Mercedes-Benz Cars, Production & Supply Chain, drove the first unit of the range off the assembly line during the ceremony to kick off its production.
Brief History of the Mercedes-Benz A-Class
The A-Class is just one of the five compact car models made by Mercedes. The compact car family of the company also includes the B-Class, CLA, CLA Shooting Brake and the GLA. The German automaker plans to roll out at eight models under the compact car segment in the future.
The A-Class paved way for the success of Mercedes' compact car segment. The production of the series started at the Rastatt plant in 1997. So far, 4.7 million cars were made in the facility since 1992.
Still Sporty
The design of the new Mercedes-Benz A-Class features a sporty and more youthful appeal. It has more cabin space that offers more shoulder room, elbow room and headroom. The exterior of the hatch appears smoother than its predecessor due to its more curvaceous outline and reduced lines on its surfaces.
Tech
The new Mercedes-Benz A-Class is equipped with the latest advanced driving assistance systems of its maker. Many tech elements found in the S-Class trickled down to the hatchback.
The MBUX that debuted at the 2018 CES in Las Vegas makes its way to the new A-Class. It showcases a unique feature that lets the car learn from the preferences and habits of the driver, thanks to artificial intelligence. Its intelligent voice control is activated by simply uttering the words "Hey Mercedes."