Ryan Joseph Ramos
March 25, 2018
Lewis Hamilton was able to get out to a smooth start to open the 2018 F1 opener, but Ferrari's pit strategy and the virtual safety car helped shift the race to Sebastian Vettel's favor.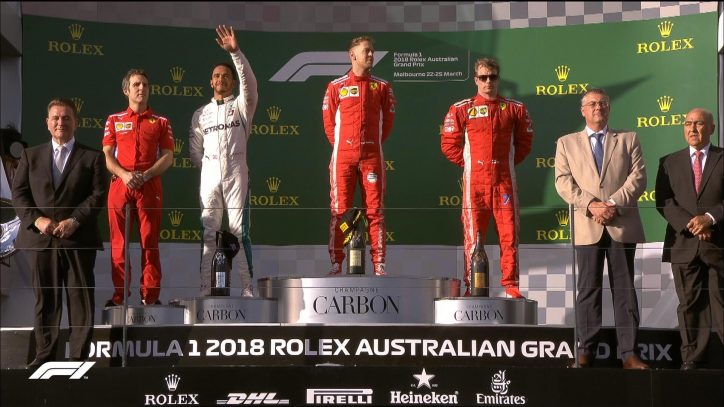 Vettel took home the Australian Grand Prix win and the early lead in the driver's standings. Hamilton finished second, while Kimi Raikkonen fended off Daniel Ricciardo for the final spot on the podium.
Hamilton pitted in lap 18 after Raikkonen, momentarily giving Vettel the race lead. Between lapping and Hamilton's pace, Raikkonen is just unable to keep up.
Romain Grosjean's exit prompted an appearance by the virtual safety car, however, and Vettel was able to pit and still come out ahead of Hamilton. Just barely. However, Vettel would no longer need to pit again and had the advantage as long as he tends off Hamilton.
Despite being able to set multiple fastest laps, Hamilton could not get clear opportunities to overtake. The track didn't really allow for easy overtaking, too.
There was also a fierce battle for third place between Raikkonen and Ricciardo, but ultimately did not provide an upset either. Too bad for the home crowd. Ricciardo had good pace on Raikkonen, too. That's just how the race goes.
Valtteri Bottas in the other Mercedes had to start the race in P15 following an epic crash in Q3. He took on a five-place grid penalty for a gearbox replacement. By lap 34, after the race resumed, Bottas was up to P8 and would maintain this place through the chequered flag.
The surprises of the F1 opener would have been the Haas team, which started in the third row of the grid and we're able to maintain their places but suffered from two retirements not even halfway through the Grand Prix. Hopefully they can address this issue to keep the midfield exciting.