Giancarlo Perlas
March 6, 2018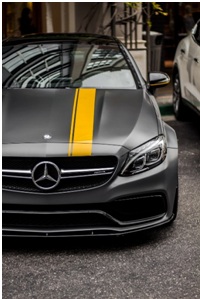 While studying marketing, you`ll have tons of tasks which will require showing your skills in brand building. If you need to write an essay, address Mercedes-Benz.
When You Write an Essay About Brand Building, Ask Mercedes-Benz to Help You
Now we're going to see how the years of the marketers' hard work have influenced your perception of this world. I know this sounds like a psychological experiment, but how about giving it a shot? And we'll see how it goes?
So, what is the first association that pops up in your head when you hear the word-combination "Mercedes-Benz"? Perhaps, it's high quality, safety, reliability? Did I guess it right? In this case, you've just witnessed a lesson number one from this German and global automobile-producing monster.
You know the company's strategy is right when you can draw their symbol and spell their name in the middle of the night if somebody wakes you up. I have no idea why somebody would ever do this to you, but if they do, you'd rather start living with someone else.
The point is that Mercedes-Benz has built a spotless reputation throughout those years.
This brand has every characteristic and quality so it can be called successful. That's why we're taking a look at it now in order to teach you how to write an essay about brand building.
What enterprise can give you a better example than the one that has these words as a motto: "The best or nothing". Haven't you got goosebumps yet?
Well, of course, we're not forcing you to write anything by yourself. If you're a super busy human being, you can address the guys from coolessay.net, and they will gladly help you out with all those essays you need to write.
But how about giving it a try? We`re writing those tips for a reason, so you'd better follow them.
Stereotypes That Still Exist
Look at you, all modern and progressive! It's only natural that you want your parents to follow you in the digital world of present-day technology. In fact, I don`t know any kid who wouldn't try to teach their folks how to use Snapchat.
But parents in this example represent that group of society that is hopelessly stuck in stereotypes which guide them throughout the life. Understandably, stereotypes may be perceived as a negative social phenomenon.
However, guys at Mercedes-Bens didn't quite agree with this statement. What they did is they turned the most widespread and common stereotype about German people into a successful PR-campaign.
What does the phrase "German quality" say to you? This phrase can be applied to pretty much any product, and it will be sold out in a matter of seconds. Mainly because people all over the planet believe that Germans are (I'm sorry in advance but that`s just a common belief, our team is pretty sure that all people from that country are fun and awesome) pedantic, extremely attentive to details, punctual, and possess a super serious attitude towards their work.
You must agree that when it comes to the process of producing a device which can be super fast and dangerous, all these qualities are paving the way to the hearts of all automobile enthusiasts. So, if you're interested in launching a startup which will potentially become an international brand, or you`re just studying marketing and all you need is a good essay, you must remember one thing.
The quality of goods or services a country produces adds to the formulation of stereotypes about this country. "Made in China" doesn't usually evoke positive associations. When we're talking about "Ferrari", for example, we imagine red color, and Italians are known to be energetic and passionate. So, we transfer this image to their automobile production.
It's the same with Mercedes-Benz and Germans.
One Successful PR-Stunt Can Turn into a Legend
It's absolutely astonishing how naive young entrepreneurs can be. For some non-apparent reason, they may convince themselves that they don`t need advertising, marketing strategies, or PR-stunts in order to make people talk about their product.
Is high-quality of the product itself and great service enough in this cruel and competitive commercial world? Yeah, right! Sorry, but you need to grow some teeth in order to be a respected rival. You need a great marketing team in order to pull this off. Let me tell you one story about the time when Mercedes-Benz had survived through a major crisis with the help of one marketing trick.
It happened in the 20th century when people's bank accounts were exhausted, and the overall income level was pretty low. Mercedes-Benz was going through a crisis because people simply couldn't afford those luxurious (and even not so luxurious) cars.
So, the company's management decided to pull off a trick that they'd never thought they would ever consider doing. They started leasing C-class automobiles for weddings. A happy couple was able to rent a car of their dreams for this special occasion. And the sales skyrocketed.
Indeed, the moment you get a chance to drive a Mercedes-Benz, apparently, you'll never be able to let it go.
Reputation Is Everything
If you're in no mood for writing a lengthy essay about the brand building process, there is one statement you can use to lay the foundation of your whole work.
For any gigantic international brand reputation is a number one priority. They have management teams that consist of hundreds of workers, who calculate all possible risks and respond to any customers' complaints with a speed of light. Those who buy Mercedes-Benz cars know for sure that if there is only one minor inconvenience spotted, the whole production will be discontinued.
Oh, there is one more example. Mercedes-Benz is so meticulously careful when it comes to reputation that they have forbidden the display of its logo in "Slumdog Millionaire" movie, in all the scenes that take place in the slums.
Managers of the company didn't want viewers to have negative associations with the brand. By the way, if you haven't noticed, the Mercedes-Benz logo itself represents stability and symmetry. So, the details are incredibly important.