Giancarlo Perlas
March 31, 2018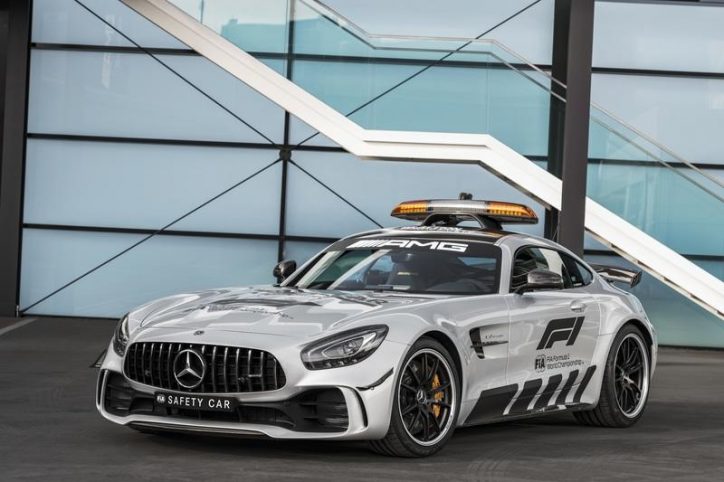 The Mercedes-AMG GT R is the official Safety Car of Formula One. So far, it is the most powerful safety car of the sport.
The mechanical specs of the new AMG GT R F1 safety car is the same as the road-going vehicle. It is powered by a 4.0-liter AMG biturbo V8 with 577 hp and 520 lb-ft of torque. The acceleration of the auto from zero to 62 mph is 3.6 seconds. Furthermore, it comes with the AMG Track Package that provides it a roll-over protection system as well as high-performance compound braking system.
Some changes were only made to the AMG GT R safety car's exterior and interior to comply with FIA standards. The new features include the roof light bar, carbon fiber air scoop, decals, roll cage, FIA-compliant radio, InCar Hotspot system with WLAN wireless network, and iPads.
The F1 safety car was introduced in 1973 during that year's Canadian Grand Prix. The first was the Porsche 914. It wasn't until 1996 when the sport started using a Mercedes vehicle. The Mercedes-AMG GT R is the 11th F1 safety car to bear the famous German brand's three-pointed star logo.
Here is a quick look of the history of Mercedes F1 safety cars from 1996 to the present:
1996: Mercedes-Benz C36 AMG
1997-1999: Mercedes-Benz CLK 55 AMG
2000: Mercedes-Benz CL 55 AMG
2001-2002: Mercedes-Benz SL 55 AMG
2003: Mercedes-Benz CLK 55 AMG
2004-2005: Mercedes-Benz SLK 55 AMG
2006-2007: Mercedes-Benz CLK 63 AMG
2008-2009: Mercedes-Benz SL63 AMG
2010-2012: Mercedes-Benz SLS AMG
2012-2014: Mercedes-Benz SLS AMG GT
2015-2017: Mercedes-AMG GT S
2018-Present: Mercedes-AMG GT R
It should be noted that F1 also uses a Mercedes as its medical car. That's the Mercedes-AMG C63 S Estate.