Giancarlo Perlas
March 26, 2018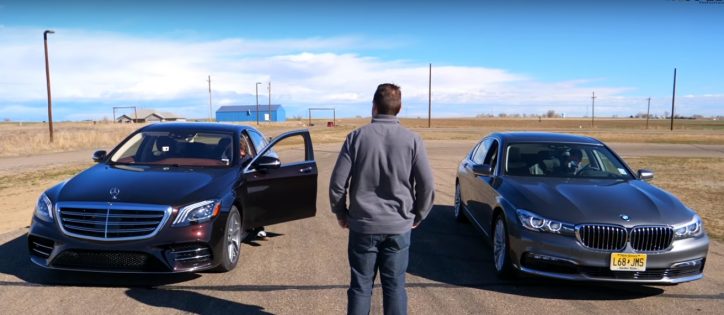 What happens if the 2018 BMW 740e xDrive takes on the 2018 Mercedes-Benz S450 4MATIC in a drag race? How will the numbers advantage of the S-Class play against its 7-Series rival? Recently, the YouTube channel of The Fast Lane Car released a video pitting the two German luxury cars against each other.
Looking at the Prices
First, the video compares the price of the two cars. The plug-in hybrid 2018 BMW 740e xDrive in the video has an MSRP of $99,845. The 2018 Mercedes-Benz S450 4MATIC is a lot more expensive with its $141,845 MSRP.
Power Unit Comparison
Then, we are taken to the engine bay of the premium sedans. The new BMW 740e xDrive possesses a hybrid setup. It is equipped with a 2.0-liter turbo inline-four engine partnered to an electric motor. The combination of the combustion engine and electric powerplant produces 322 hp and 369 lb-ft of torque. The power is distributed via an eight-speed automatic transmission. The 0-60 mph acceleration of the auto is at 5.1 seconds.
The latest Mercedes-Benz S450 4MATIC carries a 3.0-liter biturbo V6 engine. It dwarfs the output of the Bimmer by 40 hp with its 362 hp output. However, the torque of the vehicle is equal to its rival's 369 lb-ft. The power unit is mated to a nine-speed automatic transmission. The S450 sedan is slower in its 0-60 mph sprint with only 5.3 seconds on paper.
Interior
The interior of the S450 surely stands out from the 740e xDrive, considering its hefty cost. It should be noted though that the 7-Series can still be fitted with an optional package from BMW to get those extra luxurious features and match the cabin of the S-Class.
Drag Race Result
Watch the video here for the drag race between the BMW 740e xDrive versus the Mercedes-Benz S450: