Giancarlo Perlas
February 15, 2018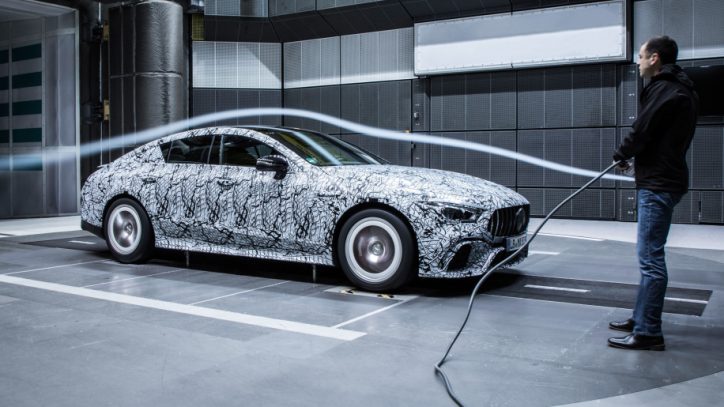 It won't be long until we get to finally see the production version of the Mercedes-AMG GT four-door. AMG CEO Tobias Moers confirmed it last week.
According to sources, the market-ready version of the four-door Mercedes-AMG GT will shed off its camouflage in March at the 2018 Geneva Motor Show. Official teaser photos of the car have already started surfacing the Internet. However, it is still hard to make out many of its key exterior elements because the unit is still clad in a zebra camouflage.
Images from Mercedes show the Mercedes-AMG GT four-door undergoing wind tunnel testing and having its test run on tracks. The spy shots hint that the car will have the Panamericana front grille, which has been the distinctive feature of AMG vehicles. It size will also likely be somewhere along the measurements of the S-Class. Then, since it will be released as a challenger to the Porsche Panamera, it might have a 2+2 seat configuration like its rival. Moreover, the top view of the auto displays a panoramic roofing that stretches from the windshield and all the way to the rear glass. Furthermore, a closer look at its bumper reveals huge, aggressive air intakes. The other design elements of the unit stays true to its Mercedes-AMG GT roots.
Based on the earlier statement of AMG, the Mercedes-AMG GT four-door will be equipped with a 4.0-liter biturbo V8 engine paired to at least two electric motors. It will be available in two different outputs with the highest going more than 800 hp. Inline-six variants are a possibility too.