Giancarlo Perlas
December 17, 2017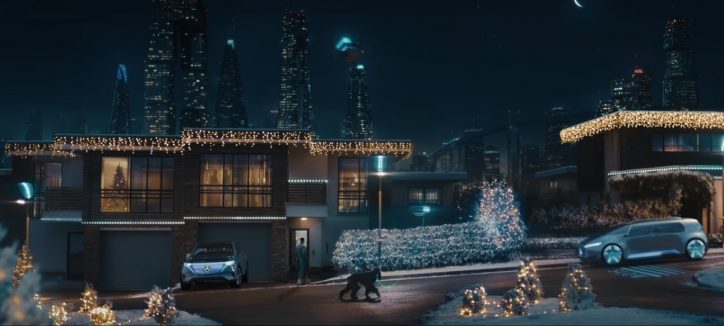 Christmas is only a week away. To keep up with the festive season, Mercedes-Benz just released its new TV spot titled "Future Traditions: A Christmas film by Mercedes-Benz". The short film shows how the brand envisions the near future.
The ad starts with the things that we usually expect during Christmas. There are the traditional decors highlighted by the Christmas tree, the gifts, the whole family, the unruly pet, games, and the extended relative. It seems like the way we celebrate it in the present. However, the video later reveals through a Christmas card that its setting takes place in 2038.
Then, as the lead actor goes out of his house, we see an older version of the current Formula One Champion Lewis Hamilton standing beside a Mercedes-Benz EQ hatchback. The F1 star seems to be sending a present to someone using a drone. As the camera zooms out, there is an EQ SUV parked on the side of the road. There's also a fortwo passing by and a hovering drone walking a dog. According to Mercedes, the EQ models shown in the scene all use self-driving technology.
You can watch the new TV ad below:
Overall, the presentation gives us a peek on how Mercedes plans to shape up our future through its products. It offers a sneak preview of the convenience that we can get from the three-pointed star marque's new technologies. It displays how the three-pointed star marque values traditions as well despite the fast changing landscape of the automotive world.