Giancarlo Perlas
December 31, 2017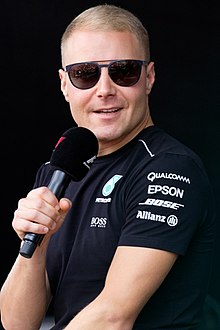 Mercedes AMG Petronas Formula One Executive Director Toto Wolff just confirmed that he is happy with the current pair up of Lewis Hamilton and Valtteri Bottas in his team. He said that he has the best drivers right now for the group.
The statement of Wolff came after rumors about Red Bull driver Daniel Ricciardo's transfer to Mercedes F1 surfaced. However, the latest interview of the Mercedes F1 boss will likely put the issue to rest.
It should be noted that Bottas just joined Mercedes F1 in 2017 when Nico Rosberg announced his shocking retirement. The Finn's contract was only good for a year though. Then, along the way, there were reports that he has been struggling with his Silver Arrow car, which led him to come short of the team's high expectations. Despite that, Wolff always showed his strong support for his new driver as he mentioned Bottas was likely still on the verge of making adjustments.
In Wolff's interview with ESPN, he pointed out that his team is strong. He claimed, "Valtteri has filled the slot quite well and thinking how the championship panned out, Valtteri and Lewis was probably the best combination we could have had."
Looking at last season's records, Bottas was actually third in the Driver Standings with 305 points. He was 12 points behind the second-placer, Ferrari's Sebastian Vettel, and 58 points down from the F1 World Champion Hamilton. His rumored replacement, Ricciardo, was at the fifth place with only 200 points.
One might argue that Mercedes has the superior car in the 2017 season, but the fact that Bottas still managed to stay in the third rank along his adjustment period only shows that he can keep up with competition. With his one-year experience in Mercedes F1, series of wins, and his good demeanor so far, he remains the ideal partner for Hamilton.