Giancarlo Perlas
December 6, 2017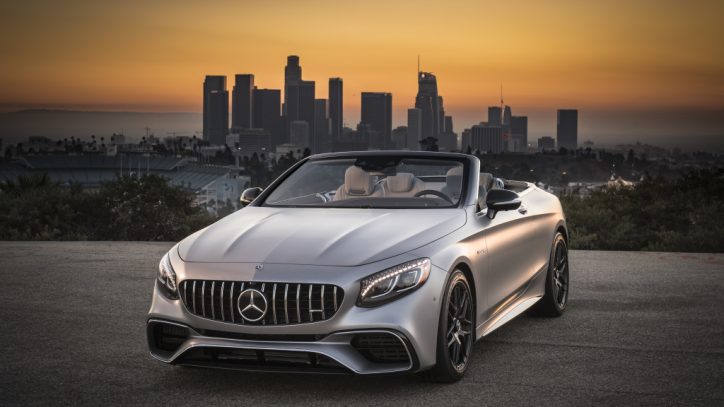 The new Mercedes-AMG S-Class Coupe and Cabriolet models were recently showcased at the Los Angeles Auto Show. The performance coupe and cabriolet each come in two trims, namely the S63 and S65. The cars feature a lot of visual, tech and engine upgrades compared to their predecessors.
Here is a rundown on the key features of the Mercedes-AMG S-Class Coupe and Cabriolet:
1. V8 Engine Boost
The S63 Coupe and Cabriolet cars carry the handcrafted 4.0-liter biturbo V8 of AMG. The unit produces 612 hp, which is 27 hp more than the 5.5-liter V8 of the older S63 models. The 6.0-liter biturbo V12 engine found in the S65 Coupe and Cabrio retained its 630 hp output.
2. Faster Shifting
The AMG S-Class Coupe and Cabriolet are fitted with the SPEEDHIFT MCT 9G transmission gearbox. The nine-speed unit reduces the lag between shifts and provides quick reactions to paddle shift controls. The wet start-off allows the vehicles to save weight and it improves their responsiveness to the movements in the accelerator. It also aids the RACE START function.
3. New Radiator Grille Design
The S-Class Coupe and Cabriolet have shifted to the Panamericana grille design introduced by the Mercedes-AMG GT and is now the standard styling of the latest AMG models. This complements the aggressive, jet wing-styled, front apron of the cars.
4. Fully Variable All-Wheel Drive System
The autos come in fully variable torque distribution. The AMG Performance 4MATIC+ offers optimum traction in various driving conditions. This is helpful in slippery roads covered in snow or ice.
5. AMG Ride Control
The damping of the cars can be configured to "Comfort", "Sport" and "Sport Plus". These allow the adjustment of the suspension depending on the riding preference of the driver.
6. Predictive Suspension
The AMG Active Ride Control suspension found in the S65 Coupe and Cabrio is aided by a stereo camera that assesses the terrain ahead. It automatically adjusts the damping of each wheel when it senses bumps along the way.
7. Curve Tilting
The curve tilting function reduces the perceived lateral forces experienced by the cars' occupants and enhances their comfort, particularly in secondary roads.
8. Exclusive Interior
The AMG S-Class Coupe and Cabriolet are adorned with sports seats covered in Nappa leather and decorated with AMG badges. Then each is fitted with a performance steering wheel.