Giancarlo Perlas
December 21, 2017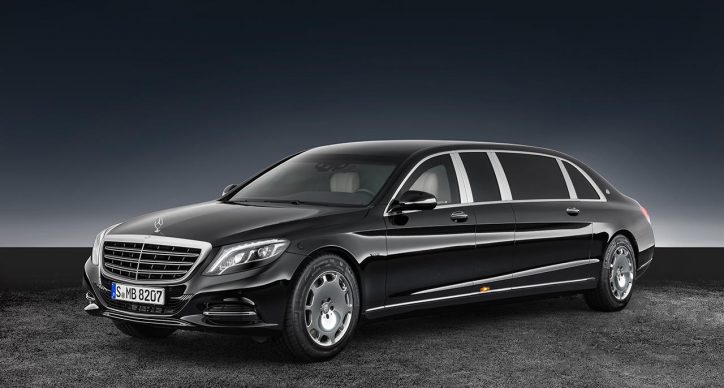 The Mercedes-Maybach S600 Pullman Guard is hands down the best that the three-pointed star marque has to offer. It may lack the agility possessed by standard Mercedes cars because of its size but it dwarfs them all when it comes to comfort, safety security and exclusivity. Add to that its AMG level of engine power.
1. Excellent Level of Comfort
The Mercedes-Maybach S600 Pullman Guard has a three-row seating. The second and third row seats are positioned face-to-face with each other.
The legroom of the limo is like what you would benefit from riding a private jet. The reclining captains' chairs at the rear provides absolute relaxation to the passengers.
The quality of the materials used in the interior surfaces are just what you would expect from a Maybach vehicle. There are the extra-luxurious touches which are not limited to wine holders, coolers, climate control, privacy glass, entertainment system, folding tables, pillows and curtains. Buyers can add more features depending on their preferences.
2. Superior Armoring
In addition to the safety elements offered by the Mercedes-Maybach S600, the Pullman Guard has a VR9 level of blast resistance. That means its armoring can withstand conventional IEDs and shots from 7.62 x 51 mm caliber machine gun or rifle.
3. Exclusivity at Its Highest Level
Ola Källenius, Member of the Daimler AG Management Board and responsible for Mercedes-Benz Cars Sales and Marketing, stated that the first-class amenities provided by the Pullman Guard makes it the ideal ride of heads of state and royal families.
4. Strong Engine
The Mercedes-Maybach S600 Pullman Guard  is powered by 6.0-liter biturbo V12 engine. It is capable of producing up to 530 hp with 830 Nm of torque. The maximum speed of the limo is electronically-limited to 160 km/h. Paired with a seven-speed automatic transmission, the car can go from zero to 100 km/h in 9.1 seconds despite its massive length.