Giancarlo Perlas
November 3, 2017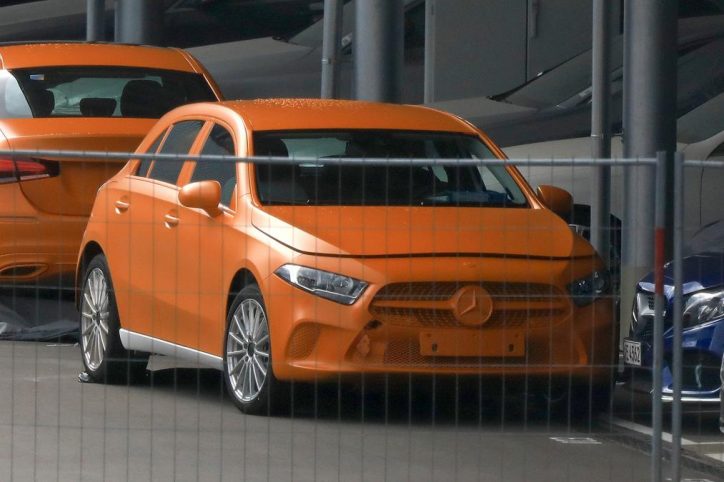 The next-gen Mercedes-Benz A-Class continues to make its appearance through a series of spy shots. Recently, the car was spotted with no wrap, except that it seems to be sporting a faux paint finish.
The pictures showing the hatchback without a camo gives us a clearer idea now of what the next Mercedes-Benz A-Class will feature. From there, we could see that its maker has updated its lighting system.
Design
While the new one still follows the profile of its outgoing model, since it only carries a revised version of the MFA platform, it appears to adopt the new Aesthetics A design language of Mercedes. The new A-Class will possibly get many of the elements presented by the Concept A shown in Shanghai this year.
Going inside, the interior features of the latest E-Class like the dashboard, center console and digital set-up might trickle down to the next-gen A-Class.
Power Unit
The next A-Class might retain the powertrains of the current model. However, some sources claimed that it might have an updated diesel lineup as it replaces its 2.1-liter engine with a 2.0-liter unit. A plug-in hybrid version of the auto is a possibility too under an EQ badge.
Earlier, we have also witnessed an AMG model of the new car making its rounds. Reports said that it could produce as much as 400 bhp, hurling it from zero to 62 mph in only four seconds.
The new A-Class is expected to arrive in 2018 at the Geneva Motor Show, which marks its 21-year anniversary since it made its debut at the same event.
Photos
The new as well as the previous spy shots of the next-generation Mercedes-Benz A-Class in the gallery below: