Giancarlo Perlas
November 12, 2017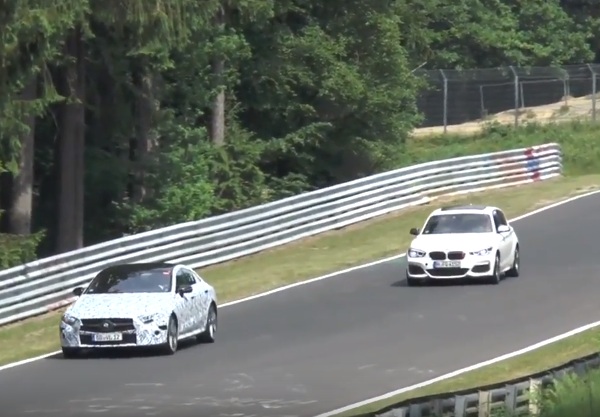 The new Mercedes-Benz CLS was recently spotted in Nurburgring while undergoing testing. The car remained in its heavy zebra camo in the new spy video. However, what was interesting about it was when it went side by side with the BMW M140i.
Check out the drive test video of the new Mercedes-Benz CLS here, and watch what happens at the one-minute mark:
The CLS is characterized by its elegant design. It has been described as a "four-door coupe." The car sits a notch up than the Mercedes-Benz E-Class. After all, it intends to bridge the gap between the E-Class and the flagship S-Class of its brand.
The upcoming CLS is expected to inherit the same powertrains available in the S-Class. That means the entry-level models will get inline-four units while the higher trims will get the inline-six engines.
When the Mercedes-AMG GT saloon concept was unveiled, rumors about the three-pointed star marque ditching the CLS range surfaced. The current developments show that the company is keeping the CLS, but reports said it will no longer have a Mercedes-AMG CLS 63 version. Instead, it will introduce an AMG CLS 53 with a hybrid setup.
According to sources, the AMG CLS 53 will run on an inline-six engine combined with an electric motor. The output of the hybrid will likely be more or less 500 hp.
The subject in the spy video though seems like a standard version of the new CLS. That probably explains why the BMW made a short work of it.
The new CLS is set to make its world debut at the Los Angeles Auto Show. The car carries many design elements found in the E-Class. However, it has been tweaked to have a sharper fascia, new lighting system, coupe-like slope in the rear portion of the roof and have more elegant features. The renderings of the auto that were released earlier serve as a preview of the coming CLS.