Giancarlo Perlas
November 7, 2017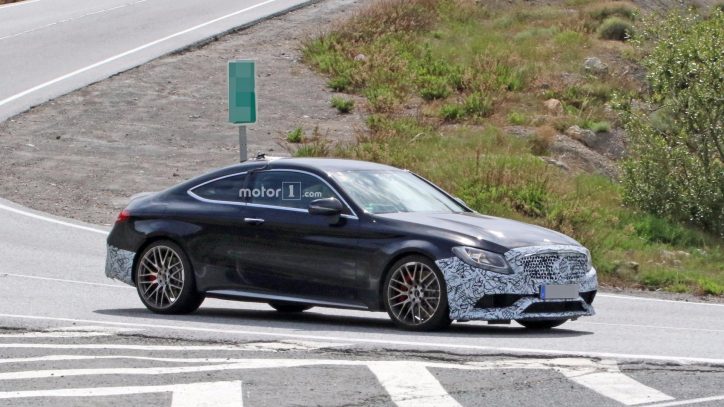 Spy shots of what appears to be the Mercedes-AMG C63 Coupe just surfaced. The car was spotted while undergoing testing.
The C63 Coupe appeared in a light camouflage and in black finish. According to the source, there was also a C43 Coupe being tested, which was in gray paint.
As we have been accustomed to, the wrapped areas indicate where the changes will take place. So looking at the camouflaged car, it will only have a light facelift.
The expected changes will come from the bumpers and the grille. It is likely that the upcoming C63 Coupe will adopt the vertical grille design, which is gradually becoming one of the key identifying marks of AMG vehicles. The LED headlamps might get updates too. The lighting system of the E-Class will probably trickle down in the auto. Then it can be seen in the photos that the car is sporting rhombus-shaped exhausts.
Though not shown in the pictures, the report claimed that the C63 Coupe will also have upgrades in the interior design. The infotainment system will get updates and a touchpad located on the central console will now serve as the controller. In addition, the steering wheel will be redesigned.
Under the hood, the refreshed C63 Coupe will possibly keep the engine of its current model. However, there are rumors that a C63 R Coupe is on the way, which will house more power and will be positioned at the top of the C-Class Coupe hierarchy.
Mercedes-AMG C63 Coupe Spy Shots
Check out the photos of the spied Mercedes-AMG C63 Coupe in the gallery below: