Giancarlo Perlas
October 8, 2017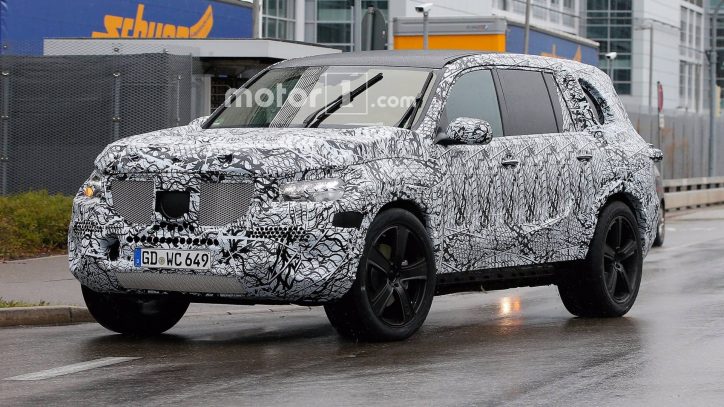 Spy shots of the next-generation Mercedes-Benz GLS prototype have surfaced. The new images hint of a more imposing design for the SUV of the three-pointed star brand.
Starting off as the GL a decade ago, the second-generation of the model was rebranded as the GLS. The prototype seen here will be third generation of the auto.
Here are our expectations from the new Mercedes-Benz GLS:
1. Exterior
Based on the spy pictures featured in Motor1, the new GLS is higher and longer than the GLE. The prototype appears to be using the Mercedes MHA platform. The photos also hint that the upcoming SUV will borrow a lot of the styling elements present in the Mercedes Ener-G-Force concept unveiled in 2012 at the Los Angeles Auto Show—minus the massive accessories and wheels.
2. Interior
Expect the same level of premium interior design found in the new S-Class. After all, it is where the SUV gains its inspiration and it sits above the other SUVs of its maker like the GLE and the GLC. The report speculates too that a Maybach version might come at the later part of the SUVs production cycle, which will carry a more opulent interior.
It is projected that the next GLS will get some of the advanced tech found in the S-Class. Among them are the the semi-autonomous driving system of the car.
3. Engine
Popping up the hood of the new GLS models might reveal either a 3.0-liter inline-six for the standard Mercedes version or 4.0-liter V8 for the AMG variant. The auto will probably offer a plug-in hybrid version as well, which combines the inline-six engine with an electric motor.
The range-topping model, the AMG GLS63, will possibly have an output of at least 600 hp. A nine-speed automatic transmission gearbox with all-wheel drive system will likely be a standard equipment for the new GLS lineup.