Giancarlo Perlas
October 2, 2017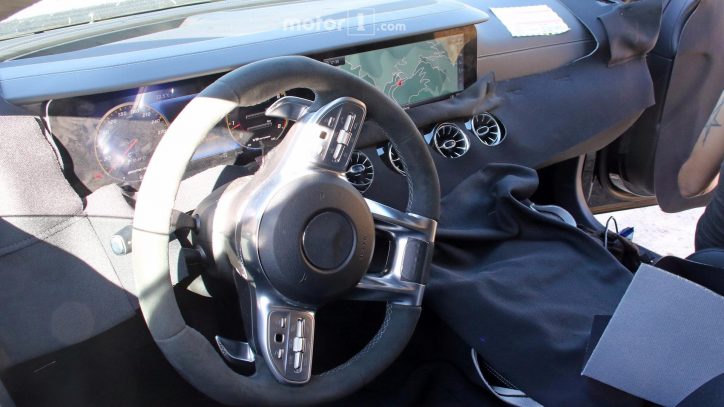 The Mercedes-AMG GT Sedan is already a go. After the official unveiling of its concept version at the 2017 Geneva Motor Show last March, spy shots of the car's production version have emerged. So far, we have seen the exterior photos of the auto covered in heavy camo. Recently, new pictures circulating online showed the interior of the vehicle.
Earlier, sources claimed that the upcoming stand-alone AMG car will get a 4.0-liter turbocharged V8 engine. The new spy shots released by Motor1 confirmed that the car is indeed getting that kind of power unit. Looking closely at the tachometer of the spied Mercedes-AMG GT Sedan, we could see that the indicator says, "V8 biturbo".
The 4.0-liter V8 has been a staple in the Mercedes-AMG GT family as well as most of the other high-performance counterparts of existing Mercedes-Benz vehicles. However, look forward to a more powerful configuration in the upcoming sports sedan.
Sometime during the Geneva Motor Show, AMG CEO Tobias Moers hyped that the Mercedes-AMG GT Sedan will get a hybrid setup similar to the Project One hypercar. He noted though that it would be lower than the 1,000 hp output of latest AMG concept. The four-door sports car will likely produce a total of 800 hp.
But then again, the spy shots here only show a V8 unit. The source speculates that the hybrid version of the car might be introduced later in its life cycle. Therefore, let's expect at least a petrol-fed variant of the auto and a hybrid version of it powered by both gasoline and electricity.
Spy Photos
Check out the latest interior spy shots of the Mercedes-AMG GT Sedan in the gallery below: