Giancarlo Perlas
September 4, 2017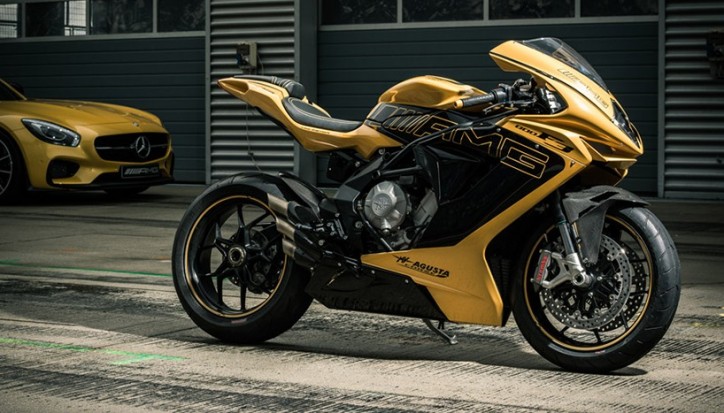 It came as a good news for bikers when Daimler AG announced a few years ago that it bought 25 percent shares of MV Agusta. Expectations arose about the idea that Mercedes-Benz might be gearing on developing motorcycles.
Excitement for Mercedes superbikes was further fueled when the MV Agusta F3 800 Solar Beam was introduced. The superbike was inspired by the Mercedes-AMG GT. However, the mark of Mercedes' performance division in the F3 800 was only limited to the same yellow finish and black accents found on the AMG GT as well as AMG badges to establish its relationship with the brand.
The F3 800 ran on MV Agusta technology. It came with a three-cylinder 12 valve engine with 148 PS at 13,000 rpm and 88 Nm of torque at 10,600 rpm. The power of the bike was distributed by a six-speed gearbox and it can run up to 269 km/h.
Last year, MV Agusta President Giovanni Castiglioni proudly disclosed in a presscon that some of their products, including the F3 800, will be showcased in Mercedes dealerships across Europe.
Fast-forward this year, the plans have been abandoned as Mercedes sold all its MV Agusta shares to ComSar Invest of Russia. It may come as disappointing to a lot of AMG and MV Agusta fans, but it may stand as a wise choice for the three-pointed star brand.
AMG CEO Tobias Moers explained from the start that they had no direct use of MV Agusta technology. The key reason is that they belong in different sectors of the automotive industry.
Currently, Mercedes has turned its focus on making clean green cars like the EQ while AMG has shifted its priorities in transferring the modern F1 technology in their cars such as the upcoming Project One.
To wrap it all up, we won't be seeing any Mercedes superbikes anytime soon.