Giancarlo Perlas
September 3, 2017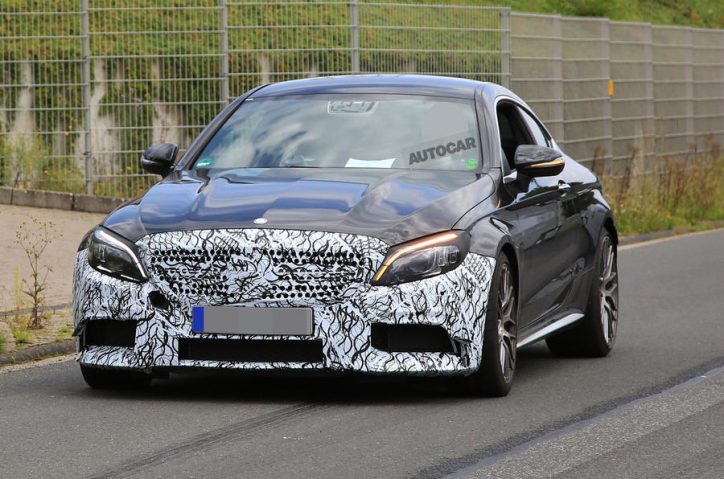 Spy shots of the 2019 Mercedes-AMG C63 were just spotted. Both the sedan and the coupe versions of the range were caught on cam while undergoing testing.
The spy photos featured in Autocar show the units partially covered. The wrapped areas hint where the changes will take place in the cars. The little camo they have also mean that we can only expect a mere facelift from the current generation of the C-Class.
1. Exterior
Looking at the images, the AMG C63 Sedan will get updates on the front grille, front and rear bumpers as well as the headlamps and taillights. On the other hand, the AMG C63 Coupe will offer cosmetic changes in the radiator grille and both bumpers. The refreshed AMG C-Class four-door variant will most probably adopt the same tech found in the lighting system of its two-door sibling.
2. Interior
The source said that the major upgrades in both cars might come in their interior. Although it is hard to make out what is inside both cars in the photos we have now, the report claimed that several semi-autonomous tech found in the S-Class like the more advanced adaptive cruise control and Lane Keeping Assist features will be brought to the facelifted AMG C63 Sedan and Coupe models. The infotainment system of the auto will also be kept up-to-date, which will feature new rotary control and touchpad.
3. Engine
The updated C63 Sedan and Coupe models will possibly retain their 4.0-liter V8 engines. However, the facelifted ones might get a little bump in their power. Currently, each has a 469 hp output.
4.  Unveiling
The facelifted Mercedes-Benz C-Class will likely be officially unveiled at the Geneva Motor Show next year. So the AMG versions of the vehicles will likely arrive in the following spring. Both will bear a 2019 model year.
Photos
Check out the photos of the upcoming Mercedes-AMG C63 Sedan and Coupe in the gallery below: