Giancarlo Perlas
September 19, 2017
Mercedes-AMG surely rocked the 2017 Frankfurt Motor Show with its unveiling of the Project One concept car that promises more than 1,000 hp in its power unit. For those who could not wait for limited edition hypercar to be produced, Brabus presented an alternative with their very own Mercedes-AMG S65 Rocket 900 Cabriolet.
Here are the top three features of the AMG S-Class with the aftermarket upgrades from the German tuner:
1. Engine
As the name of the tuning package implies, it provides the Mercedes-AMG S65 Cabriolet nearly 900 hp. Brabus retained the biturbo V12 engine of the range-topping convertible S-Class, but to achieve such power, the specialist increased the displacement of the engine from 6.0 liters to 6.3 liters. The boost also includes software upgrade, larger bores, bigger turbochargers, and better exhaust system.
The final numbers in the tuned AMG S65 Cabriolet are 888 hp and 1,106 lb-ft of torque. However, Brabus capped the torque of the package to 885 lb-ft in order to preserve the engine's reliability and ensure the safety of its customers based on a source. The upgrades allow the car to accelerate from 0 to 62 mph in just 3.9 seconds and reach a top speed of 217 mph.
2. Exterior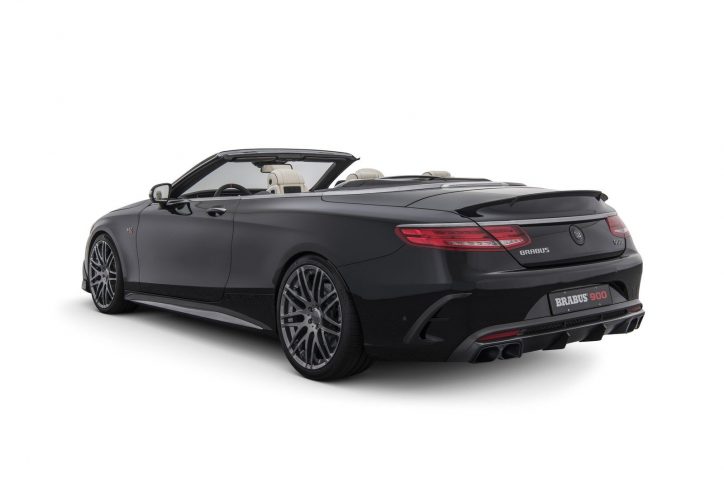 There are subtle cosmetic enhancements outside the AMG S65 Cabriolet. Among the improvements are the new lip spoiler, diffuser, air intakes, carbon fiber mirror caps as well as door covers, set of 21-inch Monoblock Platinum Edition wheels with an option to pimp it up to 22-inch Monoblock G Platinum Edition wheels, and Brabus signature badges. For added stability, the tuner lowered the suspension of the premium vehicle.
3. Interior
There are many interior design combinations for the Mercedes-AMG S65 Rocket 900 Cabriolet offered by Brabus for customers. Some of the materials buyers can choose from are fine leather, Alcantara and carbon fiber. The ones shown in the gallery below are the "Mondial Vanilla" and "Mondial Black" themes. The display of the tuner at the Frankfurt Motor Show was highlighted by the ultra high-end Desert Gold Edition interior trim.
Photos
Check out some of the photos of the Brabus Mercedes-AMG S65 Rocket 900 Cabriolet in the gallery below: