Ryan Joseph Ramos
September 17, 2017
Lewis Hamilton needed to do something special at the Singapore Grand Prix in order to have a shot at winning the race. Turns out, he needed only to wait.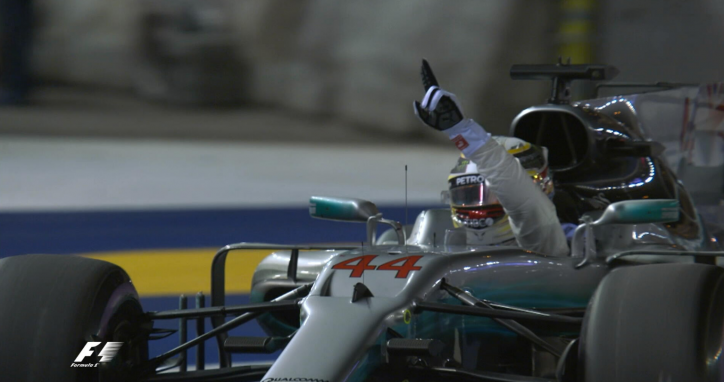 The Ferrari cars were ahead of the Mercedes team on the grid, as were the Red Bulls, which were sandwiched between the two red cars. A crash between Sebastian Vettel, Max Verstappen, and a great-starting Kimi Raikkonen eliminated most of the Mercedes rivals right off the first corner. Soon enough, it was Hamilton leading the race with Red Bull's Daniel Ricciardo and the other Mercedes driven by Valtteri Bottas right behind.
Those would be the first three retirements in a race that featured a whopping eight of them.
Hamilton noted that this was "a great result" considering the grid position and everything. Starting in fifth wasn't going to be easy if the cars in front could have started well enough and maintained their position.
"For us we definitely got lucky," said Bottas of the team's fortunes at the Singapore Grand Prix. "On a difficult circuit a 1-3 is nearly perfect."
Hamilton now has 263 points to Vettel's 235. Bottas is approaching Vettel's total as well, though, with 212 himself after finishing third in this race. Ricciardo has put together a string of solid finishes, but is still some ways back at 162 points in fourth place.
Carlos Sainz Jr in his Toro Rosso had the best finish of his career, as he came in 22 seconds behind Bottas for fourth place. Sergio Perez of Force India finished fifth, followed by Jolyon Palmer's Renault, Stoffel Vandoorne's McLaren, Lance Stroll's Williams, Romain Grosjean's Haas, and Esteban Ocon's Force India to round out the top 10 finishers.
The next race is the Malaysian Grand Prix at the Sepang International Circuit on October 1st. Lewis will surely work hard to solidify his lead further, but it should be noted that he has only won here once, in 2014, and had a retirement last season. Be sure to check back here as we keep you updated on all the latest Mercedes AMG Petronas F1 stuff.