Giancarlo Perlas
August 28, 2017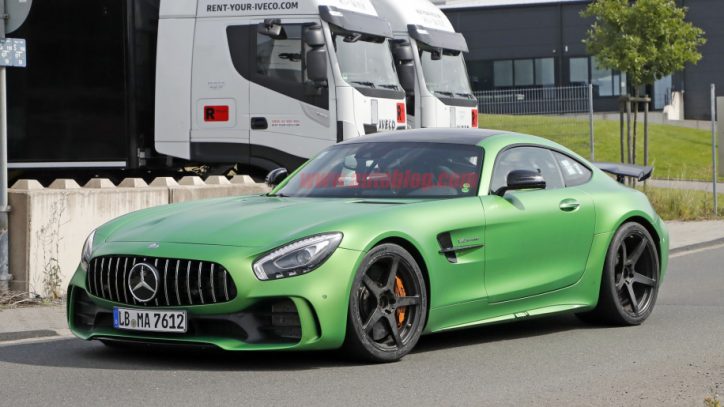 Just when you thought that AMG is done with powering up one of its most hardcore cars ever, the 2018 Mercedes-AMG GT R, we're treated to some spy shots of the GT R's Black Series version. Painted in the exclusive Magno Green Hell paint, the Mercedes-AMG GT R Black Series looks like we won't have a hard time differentiating it from the existing AMG GT R.
If you've seen the photos, you'll know that the exhaust on the GT R Black Series is now located to outboard positions within the diffuser. It used to be seated on the center. Remember the AMG GT 4 race car? This one looks quite similar to that.
The manually adjustable wing will obviously be affected by the rear glass being replaced by a polycarbonate window. Although it looks the same with the current model, the camouflage hints that there will be significant changes on the liftgate. That's only normal, of course, given that the AMG GT R Black Series promises to be completely different from its lesser sibling.
The use of the polycarbonate window means that the car will shed off more weight, though there's really no need for that since it's already manufactured with special carbon fiber components. Weirded out by the plastic rear window? Mercedes is not alone in this regard. The Porsche 911 GT2 RS uses the same material for the same reason. Mercedes-AMG is clearly fashioning the GT R Black Series to compete with Porsche's GT2 RS.
There are expectations, of course, that the car would shed more weight by reducing the interior equipment and sound deadening.
The GT R Black Series is expected to debut on September 12 during the Frankfurt auto show.
Photo Source: Autoblog