Giancarlo Perlas
July 18, 2017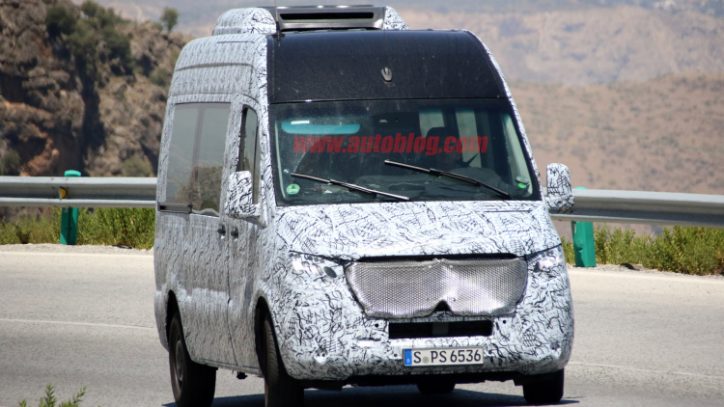 There are a lot of speculations about how the next-generation Mercedes-Benz Sprinter will look like, but that's about to end now as spy photographers recently snapped the van being tested in some twisty mountain roads.
Considering that the Sprinter van was covered in camouflage that could wrap several new A-Class vehicles, we still managed to create a rendition of this 2019 model-year Sprinter Van from the German automaker. Truth be told, it looks like the van will use a larger passenger van/bus configuration. That much the wraps cannot cover.
It might seem a little overkill to wrap the van in all that camouflage, but that's what prototype testing is traditionally undergoing—they have to be in disguise to hide the design. What we can see in the spy shots provided by Autoblog though, is that the Sprinter Van won't look radically different from the previous generations, except for a brand new spanking fascia.
It is likely that the fascia will be a little more rounded, much like the Vision Van concept unveiled last year. The headlights are also going to be slimmer, only reaching half the grille, which now extends farther down the nose. Of course, the fact that the headlights have been resigned will most likely cause this "illusion." The hood of this 2019 model looks to be less sloped than the current van but aside from that, the rest of the body might just be an iteration of what the Sprinter Van looks now.
The rest of the van's body might be a little plain compared to the standards, but what's under the hood is more interesting. There's going to be a range of gasoline and diesel options for the engines, and we've also discovered that the next Sprinter will welcome both electric powertrains and autonomous technology.
The new Mercedes-Benz Sprinter Van will be revealed early next year.