Giancarlo Perlas
July 21, 2017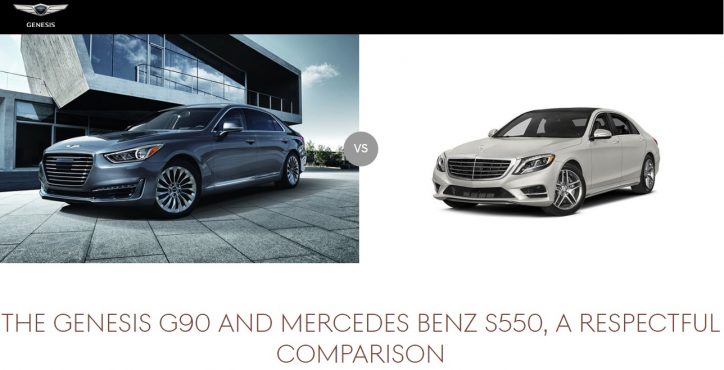 The 2017 Genesis G90 guns for the 2017 Mercedes-Benz S550 in the market. So how does the luxury cars compare to each other?
Recently, the luxury car brand Genesis released a video showcasing the fabulous interior of the new G90. The adorable presentation features the struggle between the chauffeur and the pooch brought by his supermodel passenger played by Elle Evans who is known for her part in Robin Thicket & Pharrell's "Blurred Lines" music video. It was directed by Wayne McClamy who is famous for his works in Call of Duty and EA Sports.
Watch the lighthearted moment here:

So what does the Genesis G90 offer? The South Korean brand's website one ups its German rival through a "Respectful Comparison".
Beginning with the price, the G90 comes as a more affordable alternative than the S550. The former has a starting price of $68,100 while the latter is at $96,600.
That does not stop there. The G90 claims a technologically-superior driving, navigation and comfort systems too.
The Genesis sedan is packed with Smart Cruise Control with Stop/Start, Lane Departure Warning/Lane Keep Assist, Smart Blind Spot Detection with Rear Cross-Traffic Alert, Ventilated Front Seats, Heated Rear Seats and Multi-View Camera System. The video gives us a glimpse of some of those.
The mentioned elements are a standard fit to the G90. On the other hand, the S550 only has them as optional features.
Lastly, the G90 is equipped with Wireless Charging. Now that's something that the S550 lacks.
Of course, the comparison does not give a thorough review of the two. The engines of the vehicles were not explored, which is the part where the standard S-Class takes it a notch higher than the competition.
The G90 lineup starts with a 3.3-liter turbocharged V6 with 365 hp and 376 lb-ft of torque distributed via an 8-speed automatic transmission. The stock S550 is equipped with a 4.7-liter biturbo V8 engine with 449 hp and 516 lb-ft of torque, which dwarfs even the higher-trim 5.0-liter 8-cylinder Ultimate AWD of the G90.
It should be noted that each luxury car is definitely impressive on its own. The matter about which one is better is subjective. So share your thoughts and your choice through your comments.
Disclosure: This post has been sponsored by Genesis, but all our thoughts are our own.