Giancarlo Perlas
July 26, 2017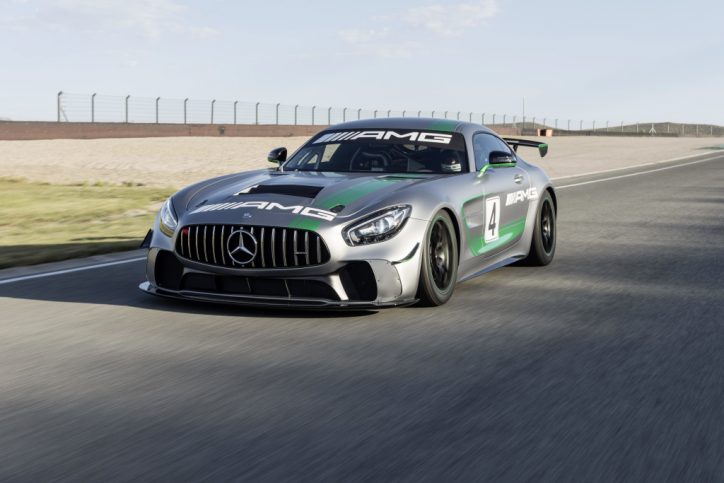 This weekend, we'll be treated to the debut of the Mercedes-AMG GT4 on the occasion of the 24 Hours of Spa. It is based on the current road-going Mercedes-AMG GT R and is being billed to be a "production-based concept."
This racing machine was built to comply with the requirements of international GT4 race series as it follows other powerful engines such as the SLS AMG GT3 and the Mercedes-AMG GT3. But for those who wish they would be able to see the GT4 on the road, you'll be sorely disappointed. The GT4 is a track-only race machine that covered 18,641 miles during its rigorous testing on the race track.
To make sure that it is ready for the race season, it even went through another endurance test at race speed in Lausitzring track in Germany. That particular endurance test lasted for 30 hours.
The GT4 race car is fitted with a biturbo 4.0-liter V-8 engine that was adapted for race use specifically. It can produce up to 510 horsepower and 442 pound-feet of torque after being paired with a six-speed pneumatically operated sequential gearbox that was last seen in the Mercedes-AMG GT3.
The GT4 can go from 0 to 62 mph in four seconds. It also has a maximum speed of 155 mph. To do that, Mercedes has to strip the GT4 off the usual comfort inside. That means the race car was left to a bare minimum to shave off excess weight. In the end, the GT4 only weighs around 1,390 kilograms while the R is 240 kilograms heavier.
The race car will be delivered to teams at the end of this year with a starting price of €198,850.