Giancarlo Perlas
July 9, 2017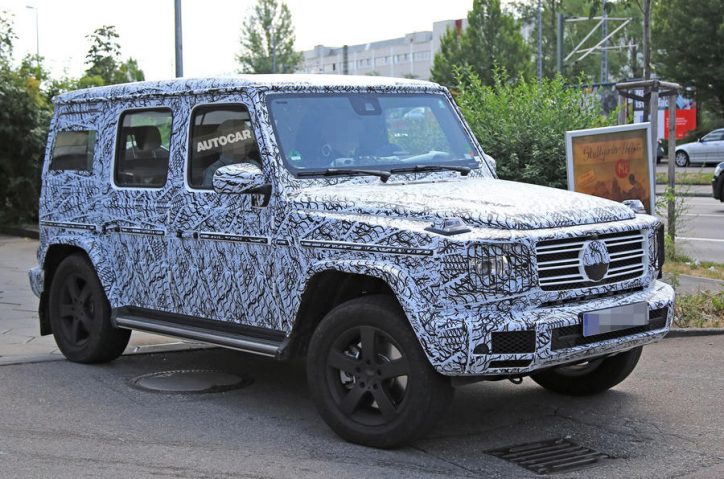 More spy shots of the 2018 Mercedes-Benz G-Class recently surfaced online. This time, the prototype vehicle displayed a few updates in its look.
In the spy photos featured in Autocar, the vehicle appears to be getting in and out of a gasoline station. It is still covered in a heavy zebra camouflage but we can already make out some of its design elements based on its form and several bulges.
The new G-Class not does not deviate much from its predecessors. The auto retains its retro and boxy look, which is heavily-based on its 460-series models that came out in 1979. The upcoming 2018 model bears a wider track though. That will bring about a more spacious interior.
The next G-Class shows wider wheel arches and seemingly redesigned bumpers. The vehicle has upgraded its LED headlamps and taillights too. The report noted that projector units were seen through the headlight lenses.
Among the other updates in the 2018 G-Class will be in its interior leather trim and infotainment system as the past spy shots have revealed. The vehicle will take plenty of the styling and tech elements found inside the E-Class and the S-Class.
Going to the engine bay, the upcoming G-Class will be equipped with the 4.0-liter biturbo V8 power unit like the one in the Mercedes-AMG GT. The range-topping model of the auto will retain its predecessor's turbocharged 6.0-liter V12.
2018 Mercedes-Benz G-Class Spy Photos
Check out the new spy shots of the 2018 Mercedes-Benz G-Class in the gallery below:
2018 Mercedes-Benz G-Class Spy Video
Can't get enough of the new G-Class? Watch also the spy video of vehicle here: