Ryan Joseph Ramos
July 15, 2017
Lewis Hamilton stormed to pole position at the 2017 British Grand Prix, boosting his bid for a fourth consecutive win at his home race. The two Ferrari cars are right behind him, however. Kimi Raikkonen will start the race at P2, while Sebastian Vettel is in P3.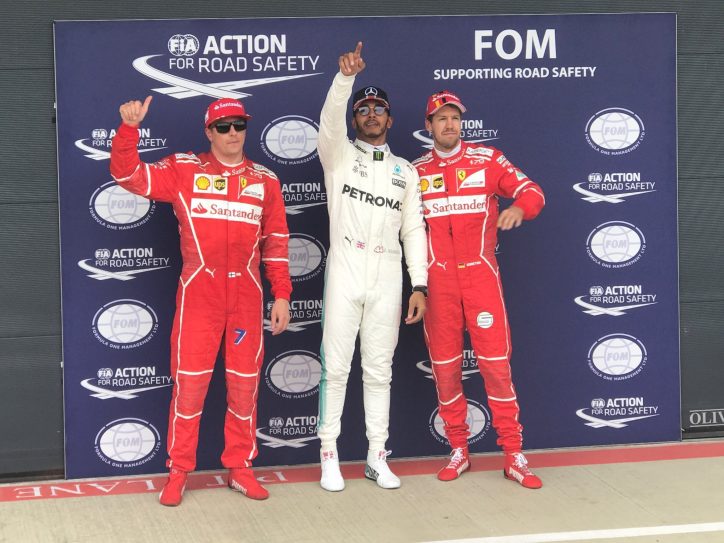 Valtteri Bottas qualified in P4 but will start the race in P9 instead. An unscheduled gearbox change dropped him five spots on the grid.
In addition, Hamilton had been investigated for an incident between himselfaas and the Haas of Romain Grojean. After a review by the stewards, however, it was deemed that no further action would be required.
With Hamilton still trailing Vettel by 20 points in the drivers' standings, and teammate Bottas closing in on him, every point counts now.
"I feel amazing, especially with a great crowd like this all around the track. Thank you guys, so much," said Hamilton after the qualifying session. Hamilton was o.547 seconds faster than Raikkonen, which is the largest gap between P1 and P2 so far this season.
Hamilton also achieved another career milestone. He now ties Jim Clark for the record of achieving five pole positions at the British Grand Prix.
One of the highlights of qualifying came in Q1. With a time of 1:37.598, McLaren's Fernando Alonso topped the segment. The Spaniard fell to P13 after a dismal Q2, but was already facing a five-place penalt before more engine component changes led to an additional 30 places in penalties. Ouch.
Expect Hamilton to work hard to fend off the two Ferrari cars right off the bat. It's clear the red cars have good pace. There could also be pressure from P4, occupied on the grid by Max Verstappen of Red Bull Racing. It's just a matter of getting a jump on the Mercedes  once the red lights are on.