Giancarlo Perlas
July 19, 2017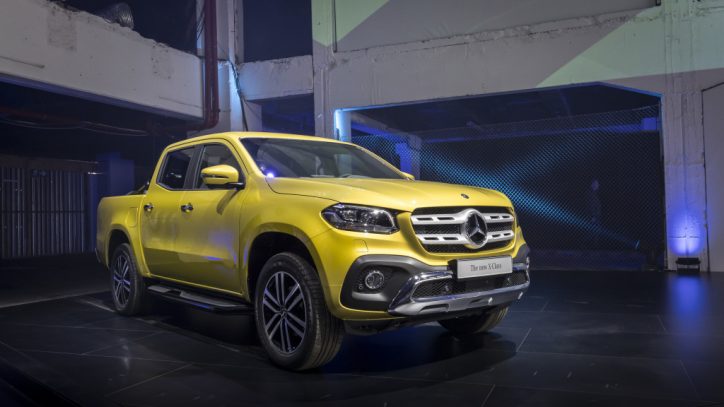 Mercedes-Benz finally unveiled its newest and first entry into the pickup truck segment—the X-Class—in a launch party in Cape Town, South Africa. Slated to be a luxurious and yet powerful vehicle, the Mercedes-Benz X-Class is all muscles and opulence as is dominant in all vehicles of its brand.
1. Exterior
The five-seater pickup is packing with full LED headlamps and has a massive 22-inch alloy wheels. The front of the car is similar to the GLA SUV range, though the X-Class pickup truck is definitely more muscular and has a bit of that dominant stance perfected.
Styling and aesthetics-wise, the Mercedes-Benz X-Class is going to compete against the Nissan Navara and Mitsubishi L200.
2. Powertrain
There are three engines available for the X-Class' market launch: the common rail diesel X 220 d (120 kW/163 hp), the X 250 d (140 kW/190 hp), the petrol engine (122 kW/165 hp). Customers can choose between a rear-wheel or all-wheel-drive and a six speed manual or a seven speed automatic transmission.
A powerful V6 engine variant with an output of 250 bhp will be added to the options next year. The X-Class has a towing capacity of up to 3.5 tonnes.
3. Technology 
The X-Class will enjoy a number of tech, including driver assistance systems—brake assist, lane keeping asset, and traffic line assist. Also available are touchscreen infotainment systems complete with the newest navigation, connectivity, and entertainment services.
The car's equipment and design language can be personalized, depending on the trim levels. There are three trim levels—Pure, Progressive, and Power.
4. Prices
The Mercedes-Benz X-Class will be launched in Germany for €37,000 before entering the rest of the European market in November 2017. South Africa and Australia will receive the X-Class in early 2018 while Argentina and Brazil can see it by 2019.