Giancarlo Perlas
July 26, 2017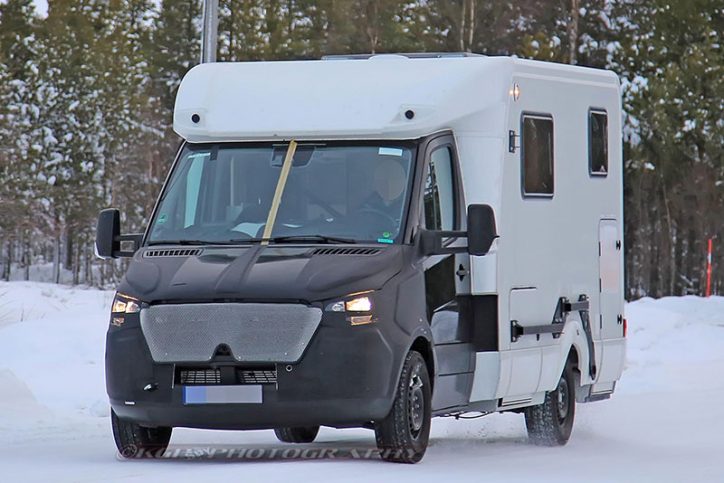 The next-generation Mercedes-Benz Sprinter van is slowly taking shape in the United States. These spy shots showed the van being tested in two configurations: one as a work-ready chassis cab and the other as an integrated motorhome version.
Though the Sprinters were heavily clad in camouflage and black plastic panels in the spy shots provided by Trucks.com to prevent a good look at the new design, we still got a glimpse of what's to come for the next-generation van.
1. Exterior
There's something happening on the side profile of the new Sprinter van that causes the window to have a "dramatic" upward swoop. According to those who have seen the van in person, the design cues of the Sprinter are very similar to the smaller Mercedes V-Class, currently being sold as the Metris van in North America.
2. Interior
The cabin of the next Sprinter is a modernized version of any interiors you can find in a truck. It has gloss black features, a dynamic instrument cluster styling, and enlarged air conditioning vents. If you look at the shots closely enough, there appears to be paddle shifters next to the steering wheel. This only means that drivers can choose to change gears in a sportier fashion.
3. More variety
There are many options when it comes to Sprinter vans, especially when it comes to how large their capacities are. You can choose from haulers with more than 500 cubic feet of cargo volume to luxury vans with capacity for 12 passengers.
There's a huge market for Sprinter vans in the United States. In 2016 alone, it hit an all-time high of selling more than 26,000 vehicles. It is not surprising that Mercedes plans to double its investment in this particular segment.