Giancarlo Perlas
June 12, 2017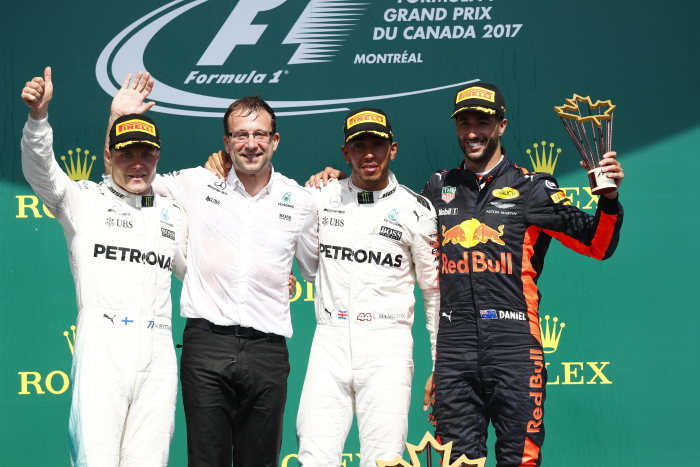 The Mercedes AMG Petronas Formula One Team just had an amazing weekend. First, the drivers of Mercedes F1 team both dominated the event with a 1-2 finish.
The race in Canada marked the 56th career win of Lewis Hamilton. The event was also where the Briton got his fourth Grand Slam victory for claiming the pole position during qualifying, having the fastest lap plus leading every lap in the race, and eventually emerging triumphant in the end.
Valtteri Bottas came in second while Daniel Ricciardo of Red Bull landed third. An unfortunate contact with Red Bull driver Max Verstappen's car drove Ferrari's Sebastian Vettel to the fourth rank.
It should be noted though that Vettel still leads the F1 Driver Standings with 141 points. He is followed by Hamilton with 129 points and Bottas with 93 points in the second and third places, respectively.
Rumors of Nico Rosberg Going Back to the Sport
Mercedes F1 boss Toto Wolff predicted that the 2016 F1 World Champion Nico Rosberg might consider going back to the sport. He said the 31-year old driver might figure out he exited the game early. Thus, there is a big chance that he will join F1 again. However, Wolff stated he wouldn't be surprised if the current ambassador of Mercedes F1 will drive for Ferrari or somewhere else when he returns.
Wolff pointed out that Rosberg's retirement in the sport might have been a result of an impulsive thought. The team boss explained the choice of the Finn could only be due to the stress brought about by the internal strife of the group between their two drivers last year.
The Mercedes F1 head told the press that Rosberg might realize his mistake and get back to racing. In addition, the 2016 champion is still young, so he still has that competitive blood in him.