Giancarlo Perlas
June 28, 2017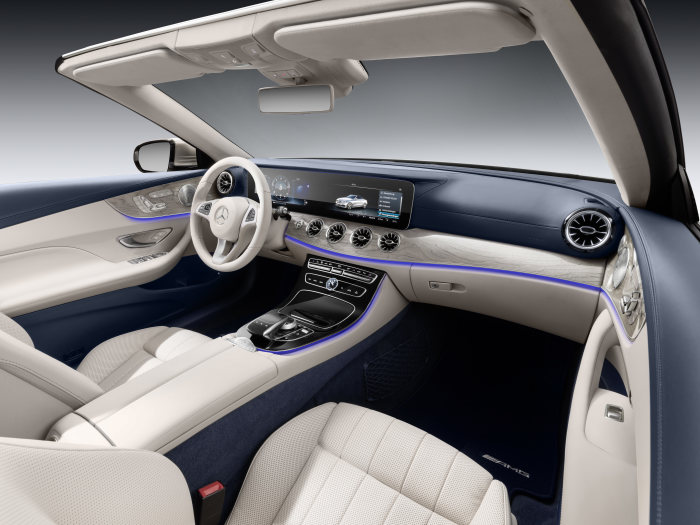 The new Mercedes-Benz E-Class Cabriolet is already available for order starting at 54,228.30 euros and it comes with five engine trims to choose from. After a quick look at the different models of the car in our previous article, let us examine its interior this time.
Space
The new E-Class Cabrio measures 4,826 mm in length, 1,860 mm in width, 1,428 mm in height and 2,873 mm in wheelbase. The figures are more than the measurements of the predecessor of the auto.
Of course, the added size of the convertible translates to more space in its interior. The resulting measurements inside the car are 866 mm in rear legroom, 1,034 mm for the front headroom and 925 mm for the rear headroom. Again, the numbers are greater than the previous model of the vehicle.
Design
The E-Class Cabriolet interior combines a sporty look with a luxurious appeal. Mercedes derived the styling of the cockpit and rear passenger areas from its design philosophy of sensual purity.
The surfaces inside the E-Class Cabrio make use of material combinations ranging from fabric/Artico man-made leather to embossed leather and nappa leather with diamond stitching. More customization options are offered by the AMG package of the three-pointed star brand.
Tech
The standard fittings in the E-Class Cabrio include a 7-inch color display cluster, central display measuring 8.4 inches diagonally, and a single panel containing the instrument cluster and central display with high-gloss piano lacquer finish.
Optional Features
For those who wish to get more out of the convertible, buyers can purchase add-ons like the two high-resolution 12.3-inch displays, Linguatronic voice control system, Airscarf neck-level heating, and various options for personalizing the design of the instrument cluster.