Giancarlo Perlas
May 12, 2017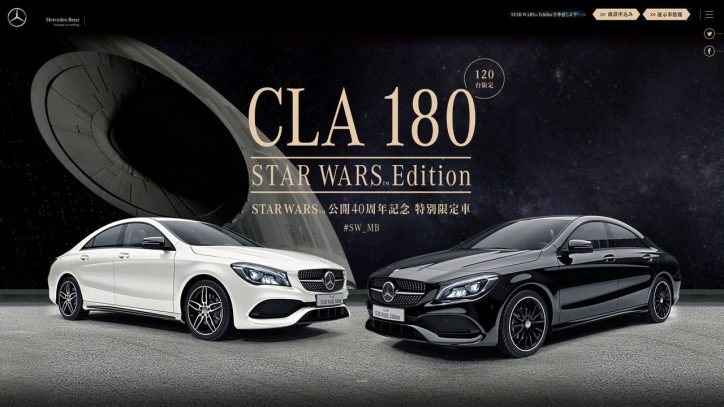 It seems that Japan is getting a lot of the special edition models from Mercedes-Benz. Earlier, we have reported that a Mercedes-AMG G63 50th Anniversary Edition was unveiled in the Asian country. In addition to that, they also got the Mercedes-Benz CLA 180 Star Wars Edition.
Here are the top 3 features of the special edition model from Mercedes-Benz CLA based on a source:
1. Design
The Star Wars Edition models of the CLA 180 are available in Night Black and Calcite White finishes. Obviously, the darker one represents the iconic villain of the Star Wars franchise, Darth Vader, while the lighter one is a tribute to his loyal Stormtroopers.
The theme based on Darth Vader comes with an all-black exterior, save for the radiator grille. It is fitted with 18-inch AMG wheels. The car's interior offers jet black leather surfaces with red stitching and crimson ambient lighting as a nod to the evil persona of the character.
The Stormtrooper-based variant has a two tone look with its Calcite White paint and black strips on the window sill, mirror caps, side aprons and front lip. Inside, the auto showcases high-end black leather surfaces with white and gray stripes plus a touch of silver stitching. The rings of the climate control system of the car are in white while the ambient lighting gives off a shade of blue.
2. Engine
The special CLA 180 retains its stock 1.6-liter four-cylinder engine with its mechanical configuration intact at 121 hp and 200 Nm of torque.
3. Exclusivity
The CLA Star Wars Edition is only available in 60 samples for each design. All of them are sold in Japan only. Orders for the cars already started last May 4, which is also considered as Star Wars Day.
Photos
Check out the photos of the Mercedes-Benz CLA 180 Star Wars Edition in the gallery below: