Ryan Joseph Ramos
May 13, 2017
Lewis Hamilton edged out Ferrari's Sebastian Vettel to take pole position at the 2017 Spanish Grand Prix. It was close as it could be, with the Mercedes prevailing by only 0.051 seconds after setting a time of 1:19.149 versus 1:19.200 for the Ferrari.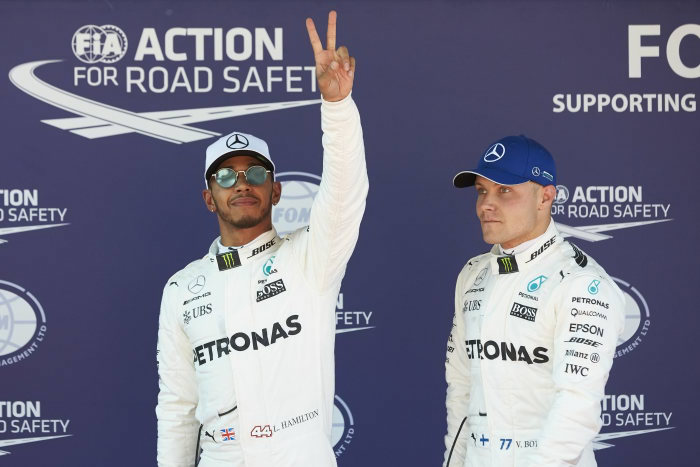 The other Mercedes car of Valtteri Bottas qualified in P3, while the other Ferrari of Kimi Raikkonen took P4. The two Red Bulls of Max Verstappen and Daniel Ricciardo, respectively, occupy the third rowyin   . McLaren had a surprising performance from hometown hero Fernando Alonso, who took P7 in qualifying.
The Mercedes cars completed one run apiece in Q1 and Q2, then made two runs in Q3. All the laps were on the soft tyres.
Bottas is trying to build on the momentum of winning his first Formula One race at the Russian Grand Prix. He is now just 10 points behind his Mercedes teammate.
Hamilton, meanwhile, is eager to bounce back from a fourth-place finish in the previous race. He trails Vettel by 13 points in the drivers' title race after four races. Lewis has won 1 out of 4 and placed second in two of the races. Vettel, on the other hand, already has two victories to his name–hence he is the leader in the early stages of this F1 ssason.
Getting pole position is, of course, very helpful for anyone who wants to win a race. Hamilton went out and did just that, although it seems the two rival teams are neck and neck once again.
This is Hamilton's third pole this season, and the 64th of his career. This is also his third pole in the last four years at the Spanish GP.
After the qualifying session, Hamilton was again all praises for the team. Mercedes had, after all, made some changes and upgrades ahead of the session. Ferrari likewise has made some upgrades of its own, and we should see some intense action during the Spanish Grand Prix race proper.