Ryan Joseph Ramos
April 16, 2017
The 2017 Bahrain GP was surely fruitful for Mercedes. The team did, after all, see Lewis Hamilton and Valtteri Bottas finish in second and third place, respectively. However, it's disappointing for the team to see Sebastian Vettel of Ferrari take home the race victory.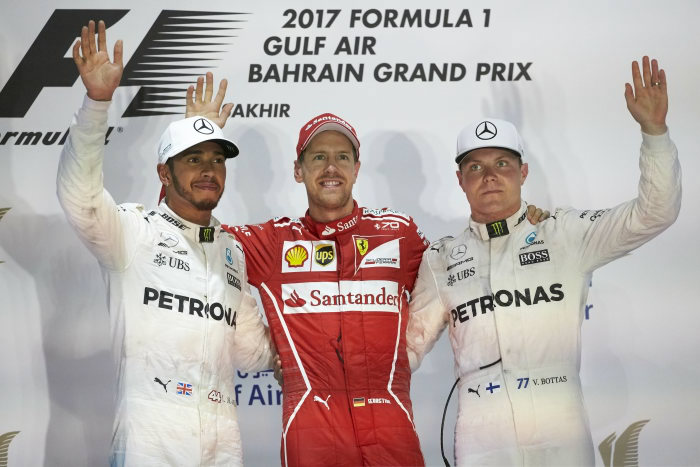 Bottas started from pole and managed to hold off Vettel at the start, but eventually finished 20 seconds out of the top spot. Hamilton made a play for it late in the game but could not catch Vettel, who took the victory 6.6 seconds ahead of Hamilton to take the lead in the drivers' standings.
This was a very tactical race, and Vettel made the correct calls. Ferrari also managed to ace its race strategy, hence the team's finish. Vettel is now 7 points up on Hamilton, while Ferrari takes the lead in the team standings by 3 points. Of course, this season is shaping up to be not quite as predictable as seasons past, and Mercedes will be keen to bounce back in the next race.
Kimi Raikkonen in the second Ferrari was in fourth, while Daniel Ricciardo's Red Bull finished in fifth. Felipe Massa took sixth in his Williams, followed by Force India's Sergio Perez and Haas' Romain Grosjean. Nico Hulkenberg of Renault finished ninth, and Force India's Esteban Ocon took the last championship point available at tenth place.
Perez had a particularly exceptional race, starting in P18 and finishing seventh. Max Verstappen, who was strong in the previous race, did not finish after an issue with his brakes in lap 11.
In lap 14, a collision between the cars of Lance Stroll and Carlos Sainz prompted the safety car to come out, but the Mercedes cars could not get back on track right away. To compound matters, Hamilton received a five-second penalty for his slow run in the pit lane.
Near the end of the Bahrain GP, Hamilton had good pace on Vettel, but the gap was just too wide and there was the penalty to consider as well.
?TOP TEN ?

1 VET
2 HAM
3 BOT
4 RAI
5 RIC
6 MAS
7 PER
8 GRO
9 HUL
10 OCO#BahrainGP ?? pic.twitter.com/Pa0iEvnebh

— Formula 1 (@F1) April 16, 2017