Giancarlo Perlas
April 20, 2017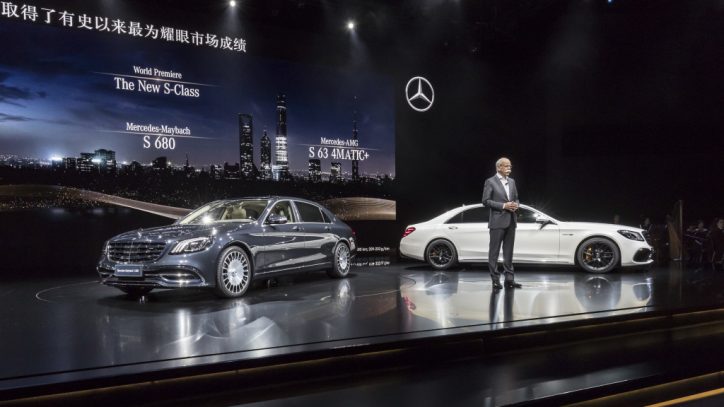 The 2017 Shanghai Auto Show is the hottest thing going in the automotive world today. Mercedes-Benz started the event with two world premieres, one Asian debut and arrival of its AMG 43 models in China.
S-Class Family Updated
The Mercedes-Benz S-Class range, including its AMG and Maybach versions, will get an update. The company earlier enumerated all the models of its flagship range that will get the upgrade including the S 450, S 560 (plus the Maybach variant), AMG S 63, AMG S 65 and the Maybach S 650. The cars all receive a facelift and the new generation of Mercedes engines.
It should be worth noting that the photos of the event show us two new trims for the S-Class, namely the Mercedes-Benz S 350 L (long wheelbase) and the Mercedes-Maybach S 680. The two will likely be exclusive in the Chinese market.
Concept A Sedan Unveiled
The Mercedes-Benz Concept A sedan made its way to Shanghai. The concept car previews the application of the brand's new design language called "Aesthetics A" to its upcoming compact vehicles such as the A-Class, B-Class, CLA and GLA.
GLA Hits Asia
The show also marked the launching of the facelifted Mercedes-Benz GLA in Asia. It is the first time for the GLA to receive exterior updates since it came out in 2013. It benefits from the new engine trims of its maker too.
New AMG 43 Models Arrive in China
The Mercedes-AMG 43 models bridging the performance gap between the regular Mercedes-Benz vehicles and the AMG 63 and 65 units land in the Chinese market as well. The bunch is highlighted by the Asian debut of the Mercedes-AMG GLC 43 4MATIC Special Edition.
Photos of Mercedes-Benz at Auto Shanghai
Check out the gallery below for some of the amazing pictures of Mercedes-Benz during the event: