Giancarlo Perlas
March 3, 2017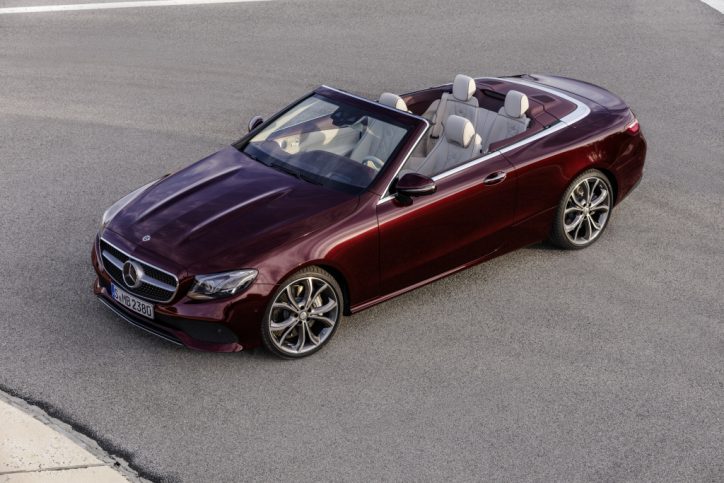 The 2018 Mercedes-Benz E-Class Cabriolet has finally been unveiled by Daimler ahead of its scheduled world premiere at the 2017 Geneva Motor Show next week. The car completes the lineup of the current-generation E-Class.
Here are the special features of the Mercedes-Benz E-Class Cabriolet based on the Global Media Site of Daimler:
1. Engine
The E-Class Cabriolet follows the same set of petrol and diesel engines available in its Coupe sibling. The power unit is paired with the 9G-TRONIC nine-speed automatic transmission for all the models of the convertible.
2. Exterior
The E-Class Cabriolet shares the same body styling elements offered by its Coupe counterpart with the exception of the fabric soft roofing plus a more rigid A-Pillar to compensate for the absence of the B-Pillar and C-Pillar. The car is 123 mm longer, 74 mm wider and 30 mm taller than its predecessor. Its wheelbase is also 113 mm more than its older unit.
3. Interior
The E-Class in general has a plethora of interior design customization options for customers that allow them to choose the kind of color and trim for the vehicle. Again, the layout of the instrument cluster and display screen of the E-Class Cabriolet is the same as its Coupe version. A special optional addition to the auto is the Airscarf neck heater and Aircap draught-stop system to keep its occupants comfortable at low temperature settings. The interior of the new cabriolet is more spacious than its preceding model.
Photos
Check out the official pictures of the 2018 Mercedes-Benz E-Class Cabriolet in the gallery below: