Giancarlo Perlas
February 26, 2017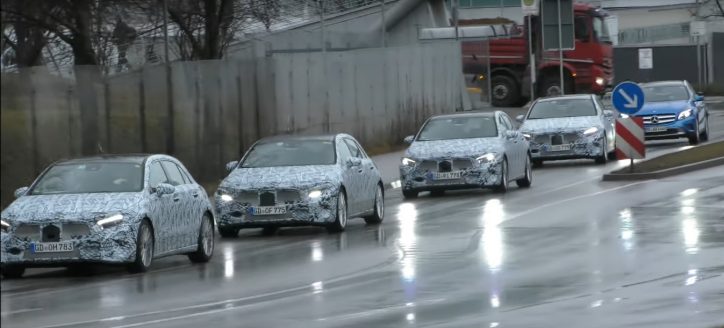 A spy video showing a fleet of the next-generation model of the Mercedes-Benz A-Class just surfaced. Five prototypes of the car were seen while being tested at its maker's facility in Germany.
Based on reports, the next-gen A-Class will come as a 2018 model. It is expected to be unveiled at the Frankfurt Motor Show in September.
Details about the 2018 Mercedes A-Class are still heavily-guarded. However, Mercedes has already confirmed that it will bear a new design language called the "Aesthetics A."
The new design language will feature reduced body lines and indentations. It will showcase sweeping angles and smoother surfaces. A new grille styling was also visible in the teaser, which is similar to the one carried by the new Mercedes-AMG GT.
It appears that the upcoming Mercedes A-Class will sport a new platform. It was earlier mentioned that it could get the MFA2 platform.
The MFA2 platform will give the hatchback more room, especially at the back. A source speculates too that the A-Class range could get a sedan version. The spy video here only shows hatchback variants of the car similar to what we have at present though.
Previous spy shots revealed that the interior of the 2018 Mercedes A-Class has two prominent screen displays similar to the E-Class and S-Class. The exterior does not show much about the car yet because of the heavy camouflage of the prototypes.
As for the power unit of the auto, it will likely be equipped with the new four-cylinder engine of Mercedes packing around 160 bhp to 190 bhp. A new three-cylinder engine is in the works as well, which might be carried to the other variants of the A-Class.