Giancarlo Perlas
January 3, 2017
The facelifted Mercedes-Benz GLA is expected to debut at the Detroit Motor Show this month. A teaser of the auto was just released by the three-pointed star marque, which can be seen below.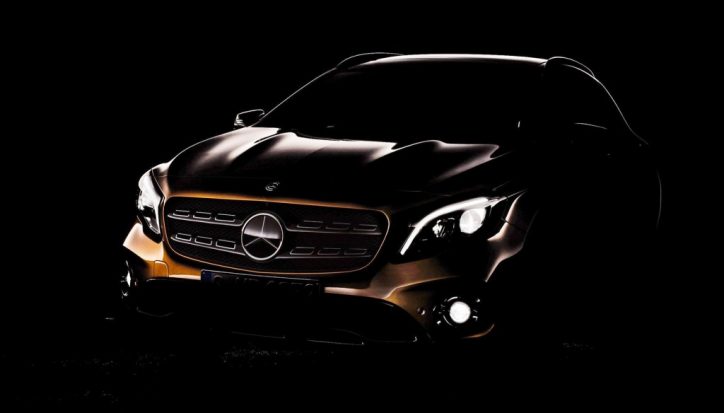 We are yet to witness the public launch of the facelifted GLA. However, new spy shots revealed that its maker is already working on the 2018 Mercedes-AMG GLA 45.
Check out the gallery below showing the spy images of the facelifted AMG GLA 45 taken by autoevolution:
1. Exterior
The GLA is considered by many as an auto sitting in between a hatchback and an SUV. It should be noted though that its maker classifies it as the latter. The teaser image of the vehicle indicates that Mercedes is working hard to justify the GLA's incusion in its SUV segment.
Going to the AMG GLA 45 spy shots, the portions of the SUV hidden in white wrap hint of where the visual updates will be located. Basing from the pictures, the high-performance model of the GLA will be sporting new grille, headlights, taillights, and bumpers. The visible updates in the auto are the rear wing spoiler, rear diffuser, quadruple exhaust tips, wheels and brake discs.
2. Interior
It is hard to make out the interior of the updated AMG GLA 45, but the changes will likely be minor compared to its 2016 model year unit. New AMG trim options for the cabin are expected though. Then the AMG GLA 45 will most probably inherit the tech available in the latest Mercedes-AMG A 45.
3. Engine
The AMG GLA 45 might carry the latest engine of its 2016 year model, which is a 2.0-liter inline-four producing up to 375 hp and 350 lb-ft of torque. Another likely candidate is the new four-cylinder engine of Mercedes.
4. Arrival
Since the AMG A 45 is yet to debut in Detroit on January 9, the AMG GLA 45 might be showcased in the third quarter of this year. It is also possible that the SUV will be highlighted at the Geneva Motor Show in March.
5. Pricing
The facelifted AMG GLA 45 is estimated to cost around $50,000.