Giancarlo Perlas
January 29, 2017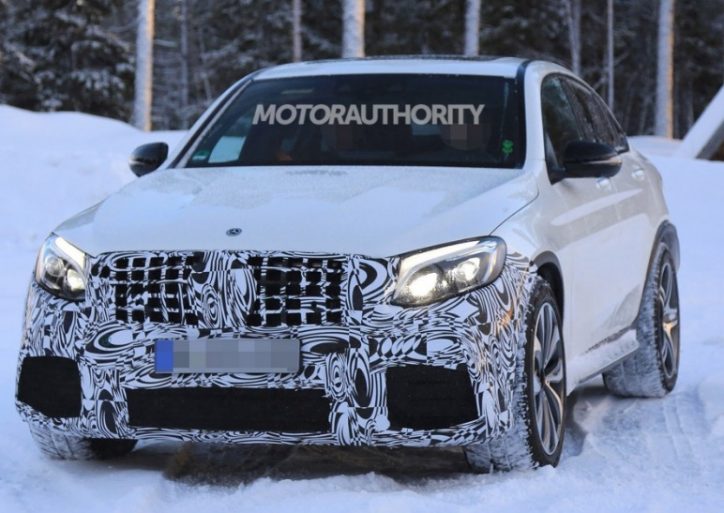 A new prototype bearing the Mercedes-Benz GLC Coupe platform was recently spotted testing in the snow. Based on the spy shots of the vehicle, it is the upcoming Mercedes-AMG GLC63 Coupe with a 2018 model year.
Here are our top 3 expectations from the 2018 Mercedes-AMG GLC63 Coupe based from the spy shots and sources:
1. Exterior
The camouflaged areas of the vehicle's body indicate where the changes in its design will take place. So looking at the spy shots, the Mercedes-AMG GLC63 Coupe will have a new grille design, redesigned bumper, more aggressive aerodynamic kit, quadruple exhaust tips, sports wheels and enhanced braking discs.
The angles of the pictures make it hard to see the interior of the auto. However, look forward to a higher quality of leather upholstery with sporty stitchings and chrome inserts in its cabin.
2. Engine
The Mercedes-AMG GLC63 Coupe will probably be equipped with the new handcrafted 4.0-liter biturbo V8 engine of AMG. From the details released by Mercedes about the M176 unit, the engine will provide the AMG GLC63 Coupe with an output of at least 476 hp and 516 lb-ft of torque. It should be noted that the base output of the M176 is 21 hp more than the outgoing M278 model.
3. The Launch is Near
Since the photos show the Mercedes-AMG GLC63 Coupe with only minimal camo, it is assumed that the unveiling of the auto might be near. It should come around the first quarter or first half of 2017.
Photos
Here are some of the spy pictures of the 2018 Mercedes-AMG GLC63 Coupe showing its front, side and rear.