Giancarlo Perlas
January 5, 2017
Mercedes AMG Petronas Formula One Team continues to keep its 2017 drivers lineup a mystery. Is it also possible that the group hadn't signed up a replacement for Nico Rosberg yet? Recently, Mercedes F1 asked Renault Sport F1 and Sahara Force India F1 if they had drivers to spare in an unusual way via social media.
The Constructors Champion tweeted, "@RenaultSportF1 @ForceIndiaF1 Don't suppose you've got any other drivers kicking about anywhere? We're kinda short on numbers right now…"
Force India replied jokingly, "@MercedesAMGF1 @RenaultSportF1 is that when you announce you are running a talent show to find the next big thing?"
Renault Sport F1 joined the conversation with an answer saying, "(sorry @ForceIndiaF1, love you)."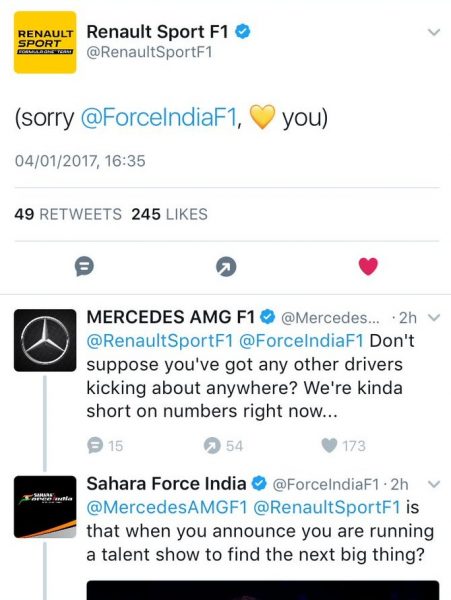 Despite the pressure on filling up the vacancy left by Rosberg's retirement, Mercedes still manages to show its sense of humor. Not long after the shocking announcement of the newly-crowned F1 World Champion, the team posted a hilarious classified ad for race driver position.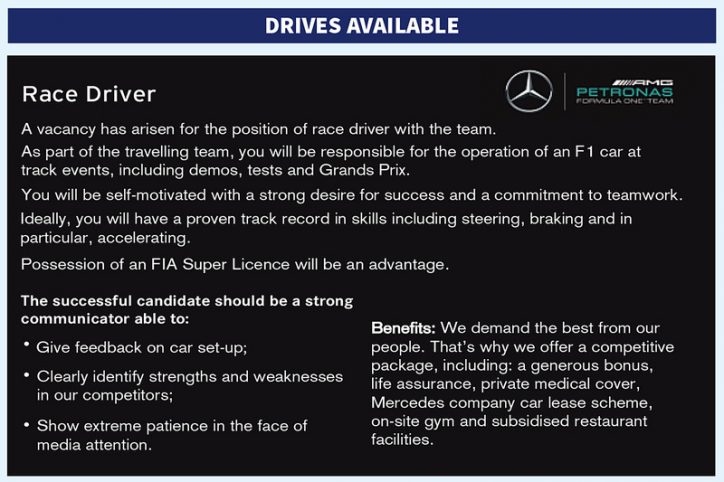 What About Valtteri Bottas?
Valtteri Bottas is one of the top candidates Mercedes is considering as partner for Lewis Hamilton this year. The only setback was his contract with Williams until the end of 2017.
Sources claimed that Mercedes and Williams were able to iron out the issue already with the return of Felipe Massa in F1 as a driver of Williams. There were rumors too that the Contructors Champion laid down some conditions to sweeten its deal with Williams. These allegedly led to the early release of the Finn from the British team.
Adding heat to the stories about Bottas' switch to Mercedes was his reported visit to the group's factory wherein he tried out the cockpit of the W08 and talked to the team's engineers.