Giancarlo Perlas
January 9, 2017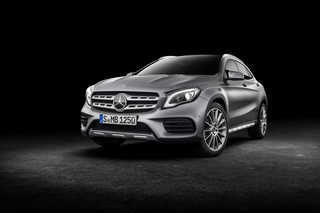 On January 8, 2017 the facelifted 2018 model year Mercedes-Benz GLA and Mercedes-AMG GLA were unveiled at the North American International Auto Show (NAIAS) in Detroit, Michigan, USA. The range includes the Mercedes-Benz GLA 250 and GLA 250 4MATIC plus the Mercedes-AMG GLA45.
Exterior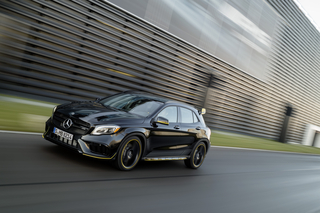 It is the first time for the GLA to receive cosmetic updates since it was introduced in 2013. The enhancements in the facelifted GLA are minimal compared to its predecessor. Among the changes are the new bumpers, alloy wheels, LED lighting system, and paint finish called the "Canyon Beige".
The AMG model of the GLA gets new aerodynamic accessories. The high-performance version of the crossover features a more aggressive look thanks to its new front splitter, AMG-styled front grille, rear diffuser and wing mounted on the tail end of the roof.
Interior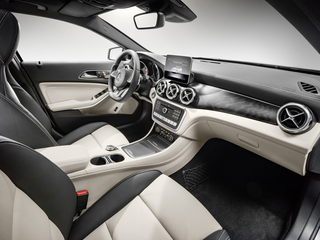 The interior also sees subtle improvements. Those who wish to pimp up the interior design of the auto can get the AMG Night Package though. The add-on gives the vehicle AMG DINAMICA microfiber trims for its surfaces, including the steering wheel, and AMG matting on the floor.
Engine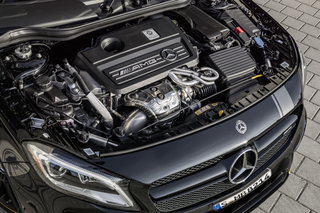 The Mercedes-Benz GLA250 and the GLA250 4MATIC are equipped with the 2.0-liter inline-4 turbo engine. Both models come with 208 hp and 258 lb-ft of torque. The former is offered as a front-wheel drive and the other has all-wheel drive system. The two only differ by 0.1 second in acceleration time from zero to 60 mph. The GLA250 sprints from 0-60 mph in 7.2 seconds while the GLA250 4MATIC can do that in 7.1 seconds.
The Mercedes-AMG GLA45 takes the all-wheel drive AMG Performance 4MATIC system with variable torque distribution. Beneath its hood lies the handcrafted 2.0-liter inline-4 turbo engine of AMG capable of producing 375 hp and 350 lb-ft of torque. Its power allows it to run from zero to 60 mph in mere 4.3 seconds.
The Mercedes-Benz GLA models have the 7-speed DCT dual-clutch transmission as a standard fit. On the other hand, the Mercedes-AMG GLA is available with the AMG SPEEDSHIFT DCT 7-speed sport transmission.
The top speed of the GLA is electronically-capped at 130 mph. But with the AMG Dynamic Plus Package, the numbers are boosted to 155 mph.
Sale
The sale of the facelifted GLA in the U.S. will begin in the summer of 2017.
Mercedes-Benz GLA and Mercedes-AMG GLA Official Photos
Mercedes-Benz USA just released the official pictures of the 2018 GLA compact sport utility vehicle, which you can see below: